Custer High School
Class Of 1962
More Milwaukee Memories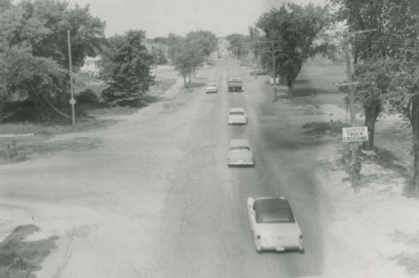 Silver Spring at 51st - early 1950's
Silver Spring was a two lane road with no sidewalks during most of our childhoods. This intersection would be on the corner of McGovern Park on the lower left, and the Army Nike site would be built on the right. And Nancy Root grew up near here on the left as well. I recall walking to Carleton grade school on narrow foot paths along side of the road with cars zipping by a few feet away. After our area was declared Granville and shifted us to Browning at 76th street, during the summer I would ride my bike from 33rd to 76th to play baseball with Ray Thompson, Wayne Oneska, John Gilbert, etc., "sharing" the road with traffic! I specifically remember this area because it began a long, slow uphill portion of the ride, except it was downhill going home!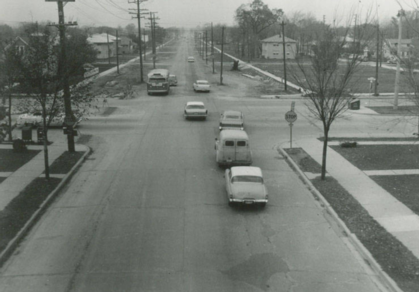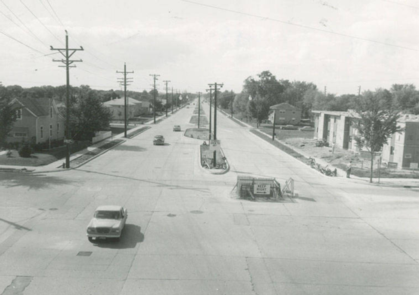 Hampton and Sherman - mid-1950's Hampton and Sherman - 1960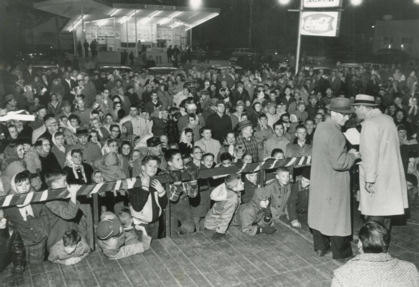 Reopening celebration of Hampton and Sherman - 1960 (Are you in the photo?)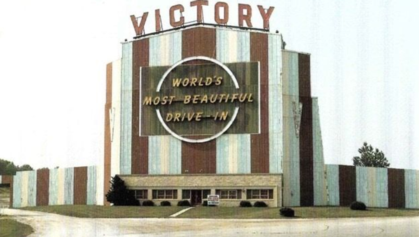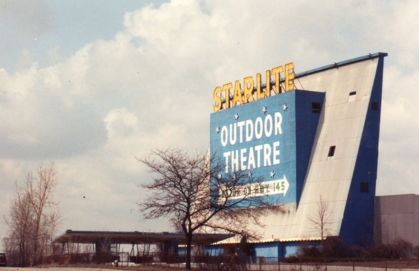 The Victory Drive-in in Butler The Starlight Drive-in in "The Falls"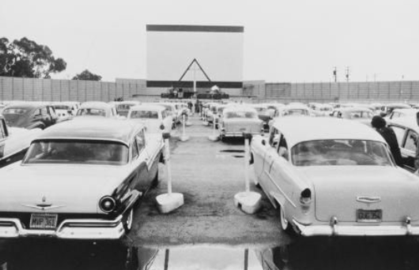 Recollections - Sneaking people in using the trunk; jocking around for the prime parking spot ("prime" being defined by whether you were there with a date or not); trying to find a speaker that works; windows steaming up; a zillion people trying to get to the snack bar or the filthy restrooms at intermission; trying to find your car coming back with an armload of goodies, or worse, going to the restroom during the movie and looking for your car in the dark while trying not to peek into other cars; and Ron Willman practicing palming basketballs with his date ... or so he says that's what he was doing. I do believe there may have been some biology lessons involved here ... unless, of course, you were with your family.
Weather People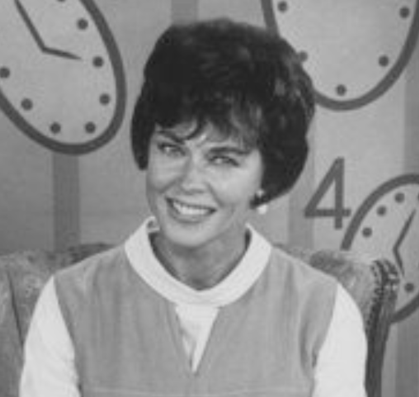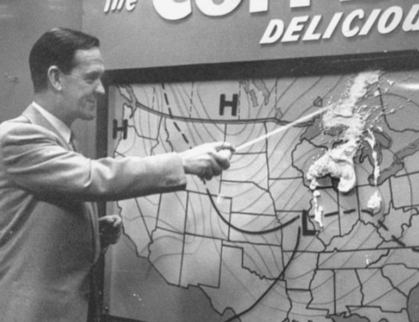 These two are easy, the gorgeous Judy Marks and Bill Carlson
(BTW - Judy died in 2011 at the age of 83.)
But do you recall the names of these people and their friend?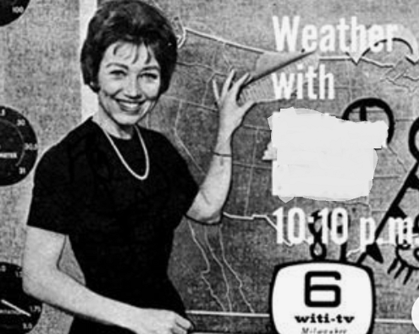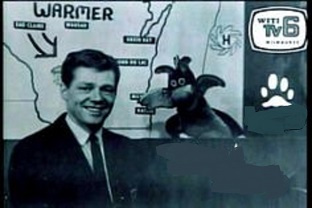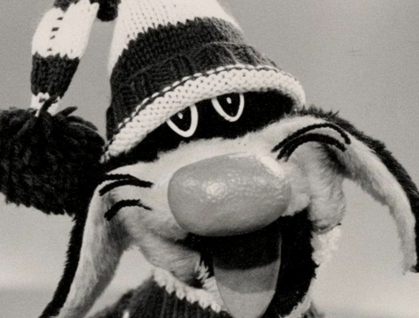 And finally ... who is this guy?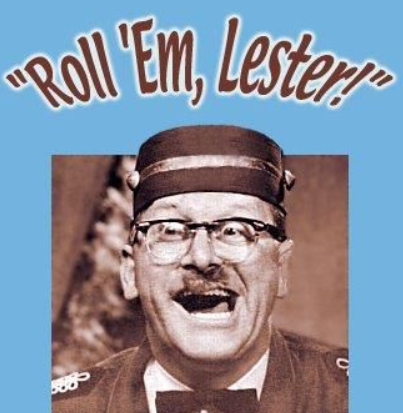 - - - - - - - - - - - - -
Childhood Memories
in Photos
Recently discovered photos from our old stomping grounds on the northside of Milwaukee. There's a bunch of them and each of them transport you back to those days gone by. There's only room for a few of them on the website so here's a sample today. Then it's time to figure out how to put more on the website without using up all of our memory allocation.
Some of these will bring out specific memories for you. We'd like to hear about them. Use the "Message Forum" to tell us your story.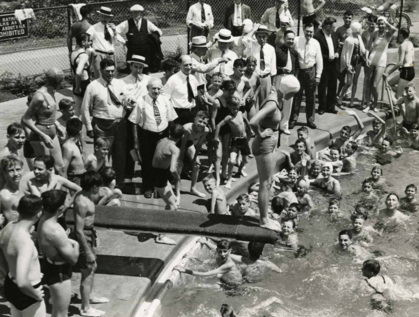 The caption for this photo says, "Silver Spring Pool" and has no date. But clearly it must be McGovern Park pool and perhaps the grand opening. Maybe it was the forerunner of the McGovern name or the lack of knowledge of the archivist. Not many girls around and a bunch of old pervert guys in white shirts gawking. Ron Willman insisted on pointing out that besides the girl on the end of the board there is another girl waiting at the back of the board. To the right of the second girl is a man with his tie askew. Behind him is another girl ... who appears to be having swimming suit equipment problems! (You may have to exam it as closely as Ron did!)
McGovern pool ...foot inspections; wet changing rooms that got your clothes soaked but mostly your underwear; wire baskets for your clothes with numbers on pins that were sure to open unexpectedly while swimming; puddles of water on the deck heating in the sun in which kids laid, along with a zillion germs but it was warm; getting in line for tickets at 11:00 in time for the opening and staying until late afternon (sun screen? what was that?); the snack bar with mostly junk; and most everybody has a story of almost drowning at one time or another and/or learnng how to swim!!!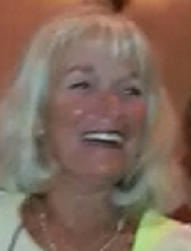 Smith Park wading pool .. or locally known as the pre-school walk-in toilet. Smith was just a block away from Edison Jr High and across the street from several of our classmates' homes. It's thought that at some point the pool disappeared or was at least closed for many years. It was around the time of the '50's polio pandemic during which many public water facilities were shut down, including the iconic Milwaukee "Bubblers". In the Army's basic training camp I almost got laughed out of the barracks when I asked somebody where the bubbler was. They had no idea what I was talking about.
Town Pride ... this one is thought to be the one at Teutonia and Villard. There was another somewhere further up Villard, around 60th Street? How many "ice cream" cones did you consume from there? And I loved their hot dogs! Do you know that hardly anybody in California knows what custard is? What was the name of the custard stand across from Carlton on Silver Spring?

WTMJ transmission tower being built, 1952. Clearly this is the safety inspector carefully making sure all the bolts are tightened and the crain cable is strong enough. I do remember riding passed it while under construction.

1952 - WTMJ transmission tower completed.
If you'd like a copy of any of these photos, just drop a note to me under "Contact Us" and I'll be glad to email or text them to you.
If there's interest in these, there are plenty more available. Let us know.
- - - - - - - - - - -
Check out the "In Memory" tab for information on the rediscovered commemorative video for our classmates who had passed prior to the 50th Reunion
- - - - - - - - - - -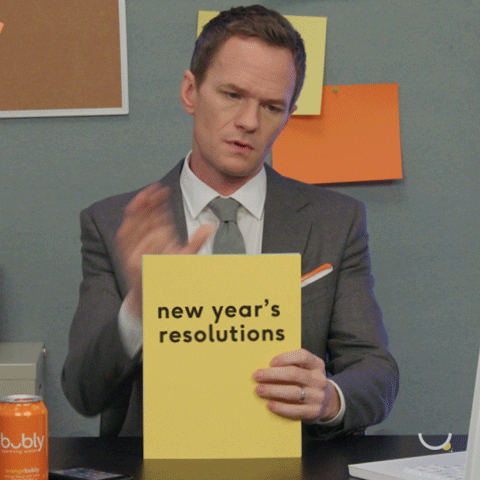 It's not clear what was written by our classmates or by their ultra egos.
Take them for what they're worth …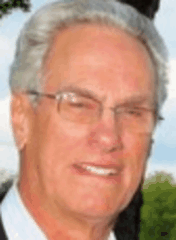 Gene Melzer – Hey Buddy, my resolution is to stop telling people what to do all the time. Here … I wrote down a few of yours for you. (Yeah, that'll be the day!!!)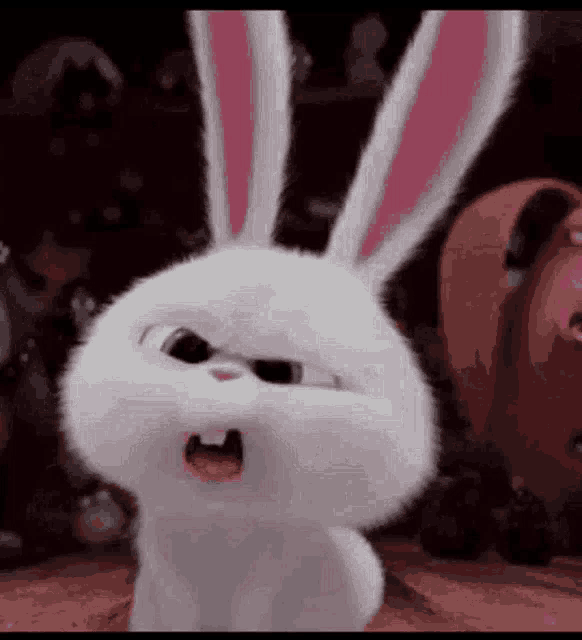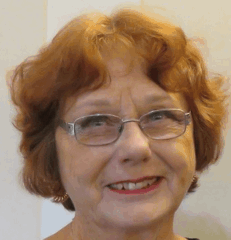 Pat McCarthy McCarthy – Your Majesty, my New Year's resolution is to stop putting my foot in my mouth. I bet yours is to lose weight!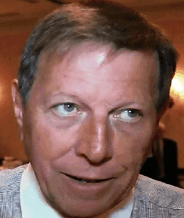 John Gilbert – Hey Indie, did you know walking back to your car because you forgot your mask is the new kind of pissed off!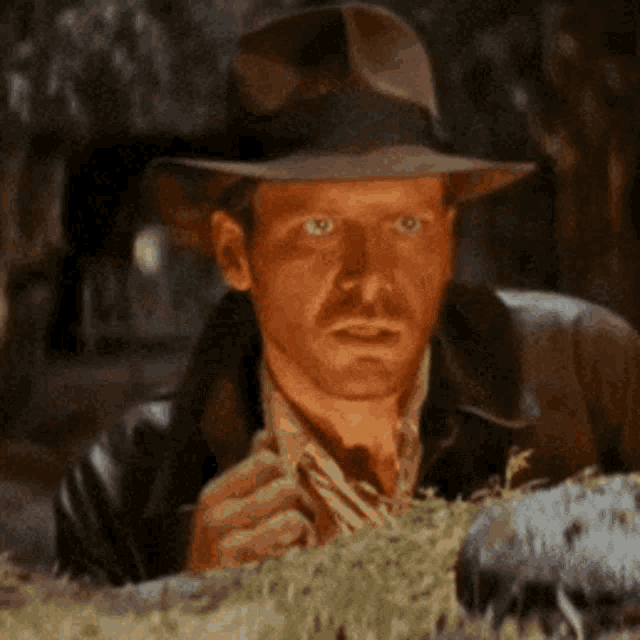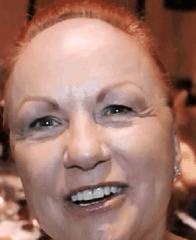 Sue Loch Hirt - My New Year's resolution is to lose 15 pounds. Doing pretty well so far … only have another 20 pounds to go, Sophia!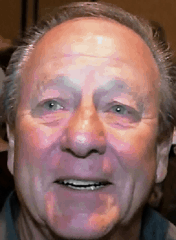 Bill Gregorius – If you're a smart guy Al, don't let them take the temperature on your forehead as you enter the supermarket. It's a government plot to erase your memory. I went for a bottle of milk and a loaf of bread and came home with a case of beer and a dozen bottles of wine.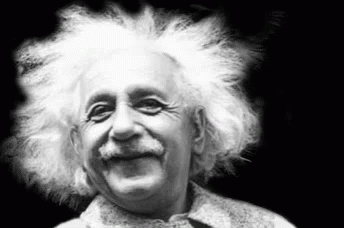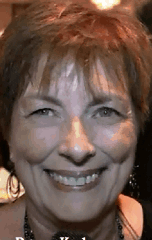 Donna Karl Leitzke – This may be shocking to you Lucy but I promised Jon that I'd be straighter with him in 2021. Which prompted him to ask why I married him in the first place. I told him it was because I thought he was a funny guy. He said he thought it was because he was good in bed. I said, "You see? You're hilarious!"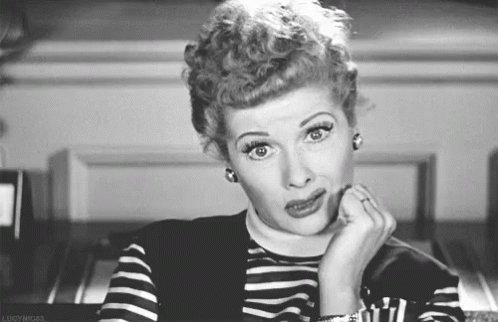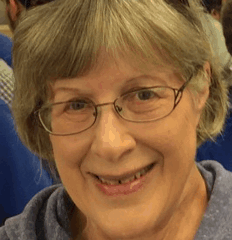 Terry Levenhagen Hoostra – Betty, tell our Custer webhost that for my New Year's resolution I promise to stop correcting his terrible spelling and focus more on his horrific grammar.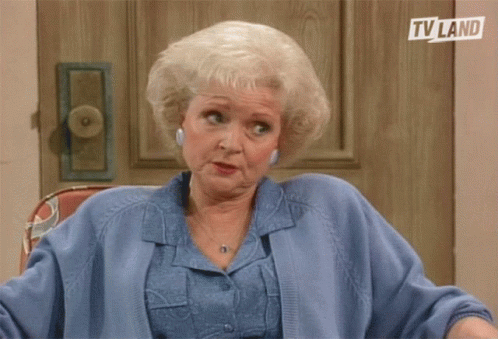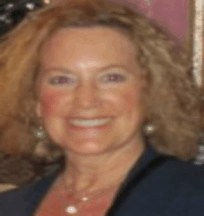 Bonnie Buck Walter – Julia, I think the biggest lie I tell myself is "I don't need to write that down, I'll remember it!"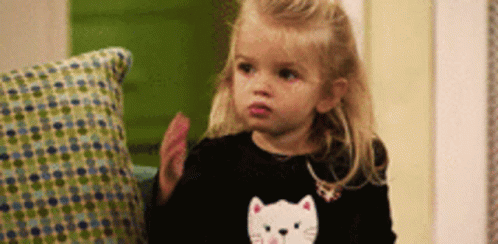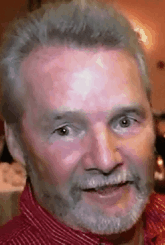 Bernie Raml – Ben, I used the Force to come up with my New Year's resolution. It's to stop kidding myself about lifestyle changes. Nobody likes a cheap, skinny, sober s.o.b. anyway.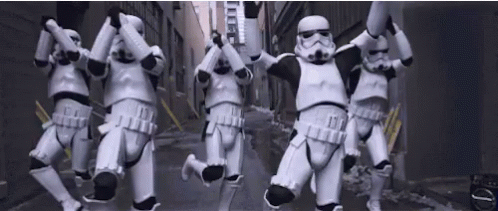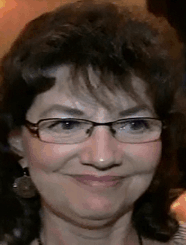 Sally Hopfinger Colker – I Wonder, do you ever go out and while you're out you think … that's is exactly why I don't go out?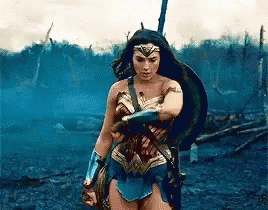 Mitch Heinrichs - My New Year's resolutions are to gain weight; save less money; set realistic goals. Did I say the magic word!!!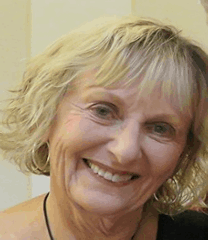 Marilyn Griffith Bauer – Just between us Marilyns, I think I made too many New Year's resolutions this year. It took me almost a full day to break them all.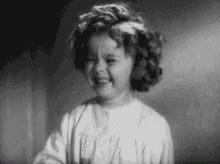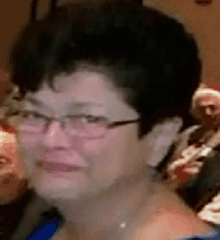 Coleen Kober Marshall - I don't call them New Year's resolutions, Annette. I prefer the term of casual promises to myself that I am under no legal obligation to fulfill.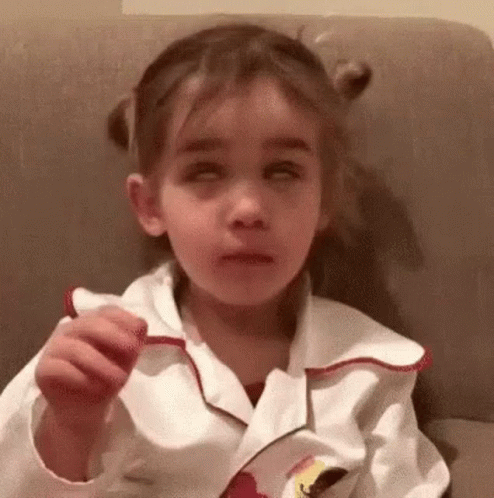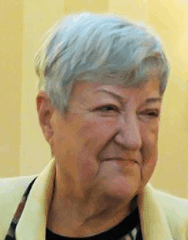 Kathy Tabat Dixon - I'm not buying a 2021 planner until I can see a trailer. The Kates aren't buying it!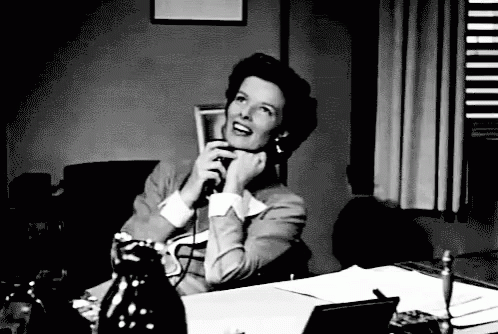 - - - - - - - - - - -
December 25th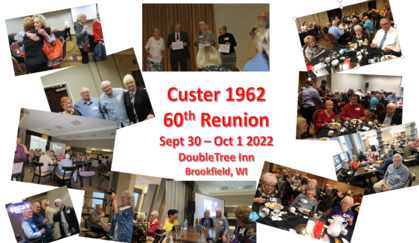 (Although I see nothing wrong with that!)
- - - - - - - - - - -
December 23, 2020
This is it! Either you've got it done or it's probably too late now!!! And these are the last ultra egos that we can fit in before the Big Day.
John Krasnan says ...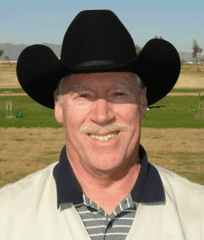 "I'm telling you partner ... you'd better have a Merry Christmas"
John Stanelle brings out of this world wishes ...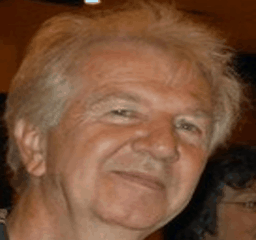 "Wish you a Merry Christmas I do." (the voice is the same)
And Melody Parker Jones' ultra ego has the same advice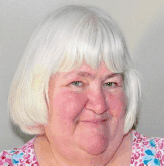 "Many Yule Tide blessings"
Bonnie Seitz Kenny singing and dancing for you with her ultra ego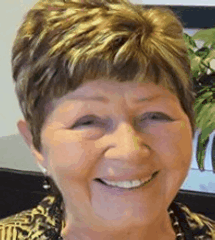 Merry Christmas to all my fans!
And these greetings from the inane but irrepressible clown ...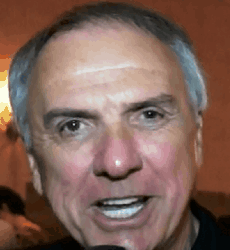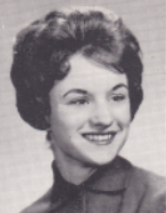 Nancy Plapper Schopf - My new word for 2020: AIRGASM – the intense pleasure of leaving a public place and taking off your mask.


Warren and Joan De Smidt
Joan: Did you go get the free Covid 19 test today?
Warren: Kind of.
Joan: What the heck do you mean kind of?
Warren: Well, I went but I decided I didn't need it that badly.
Joan: Why, what are you talking about? It was free!
Warren: I got there and the sign said, "Covid testing in the rear". I decided I didn't need it that badly.
Joan: Sigh!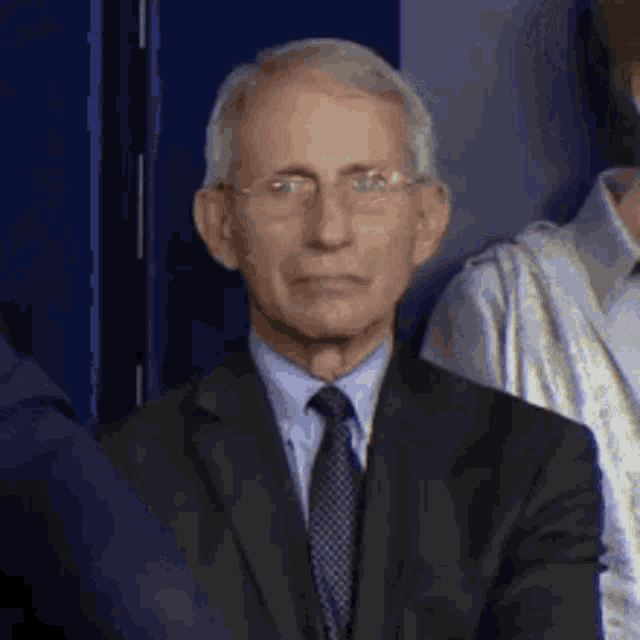 Janet Darnell Keno - Did you hear about the coin shortage as a result of the quarantine? It seems that America is out of common cents.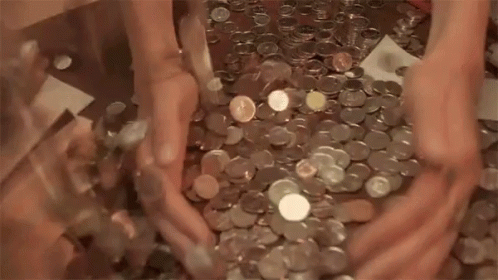 Fred Fischbach - My wife said I need a hobby during this quarantine. So I went to the store to buy some bird seed. I'll never forget the look on the clerks face when I asked her how long it'd take a bird to grow once I planted the seeds!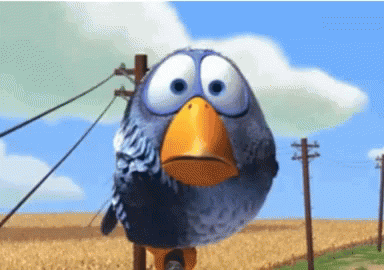 Harold Meyer (We didn't have a current photo of Harold but he said this one is close enough!) - During this isolation I was feeling frisky and asked my wife to talk dirty to me. She said, "Did you know that every year 14 billion pounds of garbage are dumped into the sea?" I don't feel frisky anymore and she's just snickering.


Bonnie Seitz Kenny - Apparently you can now visit friends … you just have to stay in your car. Yes, I did turn on my signals.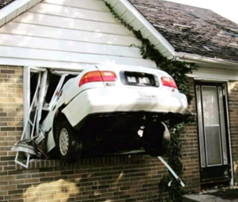 Judy McConnell Anderson - Be honest, if people heard what you were thinking half the time, you'd either be in jail or a mental institution.


Gary Ehn - Me: "Alexa, what's the weather going to be like this weekend."
Alexa: "Doesn't matter Gary. You aren't going anywhere anyway!"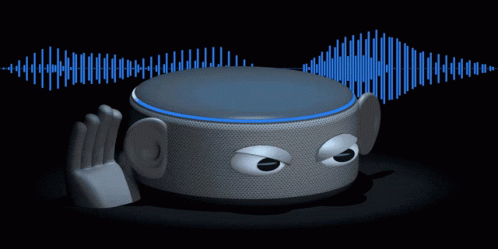 Terri Levenhagen Hoostra - I get most of my exercise these days from shaking my head in disbelief.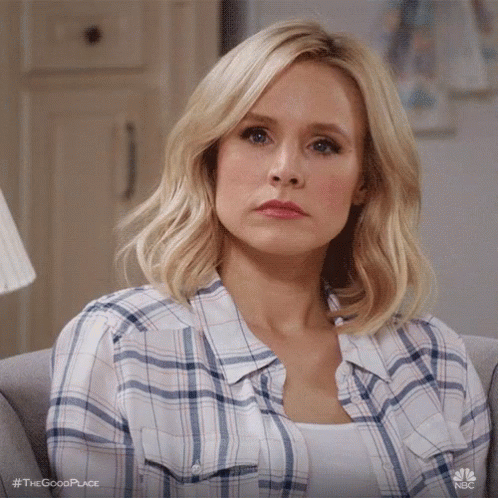 Roy Franks - I said to my wife that I thought it was time for us to have sex again. She said that we could just fool around and consider it a Phase I reopening.


Marlene Schuppe Goll - This quarantine is driving me nuts. My husband just put 27 marshmallows in his mouth and is proudly grinning at me with his marshmallow face. I wonder if you can get divorced via Skype.


Ken Kuester- Remember in this crisis, if you help someone when they're in trouble - they will remember you when they're in trouble again.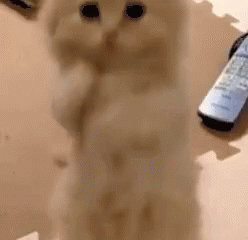 Ron Imig - This pandemic reminds me that many people are alive only because it's illegal to shoot them.


Jan Bauerenfeind Petersen - Did you ever get the feeling that it's just one body part after another saying, "Ha ha, if you think that was bad, watch this!"


Dennis Unterholzner - Do you ever get up in the morning and look at yourself in the mirror and think, "That can't be accurate!"?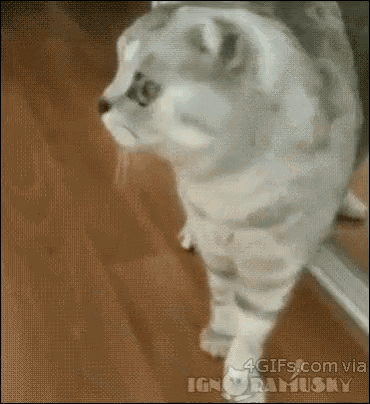 Ken and Suzanne Rabas- My husband purchased a world map, gave me a dart and said, "Throw this and wherever it lands I'm taking you for a vacation when this pandemic is over." Turns out we're spending two weeks in the refrigerator.

Gerry and Peggy Pawlowski Finch -

Late at night my wife's cell phone beeped. I looked at it and angrily said to Peggy, "Who is texting you at this hour and calling you beautiful?" She looked at the phone and said, "Put on your glasses you old coot. It says "Battery Full"!


Judy Boelke Kenehan - Funny the things your warped mind sees during a quarantine. Today I noticed that the cover of my ironing board is wrinkled and I laughed at the irony. Then I laughed again because of the word "irony".


John Krasnan - News flash! Sticking your tongue on an outdoor bug zapper lamp will cure the virus. Yep, I read it on the internet. Gordy, you're a pharmacist, why don't you try it?


Bryan Gutknecht - If you're refusing to wear a mask due to concerns your brain won't get enough oxygen, I think that ship has already sailed.


Sandra Fligge Axtman (20 other grandkids not included in the photo) - Do you ever feel like you could scream at the television the next time you hear a sponsor say, "We're in this together"? Do you see them taking you out to dinner, taking you to a football game, going to your line dancing classes or flying to Paris with you? I thought not.


Judy Rank Hahn - And finally, we have a classmate with the ultimate virus protection! Um Judy … Judy …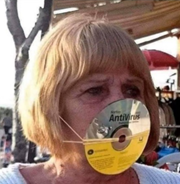 - - - - - - -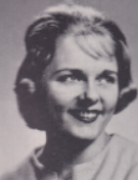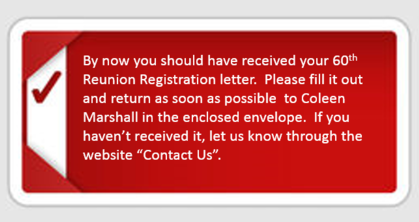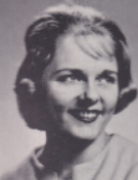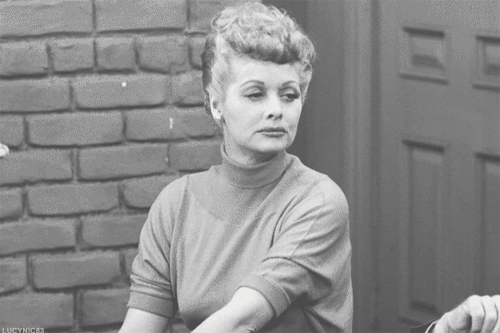 John and Mary Gilbert
Mary: Whatever happened to our sexual relations?
John: I don't know, I don't think we even got a Christmas card from them last year.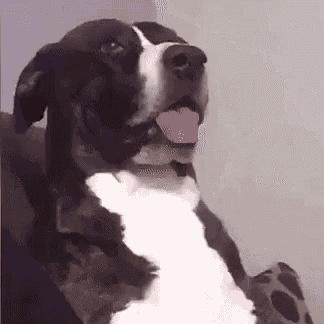 David and Angie Holm
David: I'm really worried about getting this virus and if I die from it, I want to go with a clear conscious. Something's been bothering me for a long time.
Angie: Hmmm. Did you want to tell me about this "something"?
David: Yes … I … I … I was unfaithful to you … once. It was back in '71, I was drunk, it was in the men's room of a pool hall, a blond, she really came on to me and … I was weak.
Angie: Umm …David you old fool … that was me!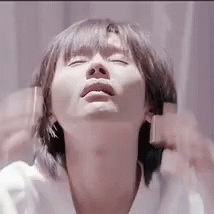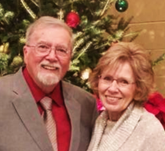 Dennis and Gert Lucchesi
Gert: (Sneezes)
Dennis: Does the whole "… in sickness and in health …" thing still apply in a pandemic situation?
Gert: (if looks could kill …) For your health's sake, would you like to reconsider that question?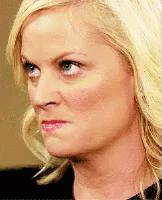 Ron and Lynnette Lloyd
Lynnette: Everything is a risk. Getting out of bed every day is a risk. Being vulnerable is a risk. Loving someone so hard you feel like you'll burst is a risk. Letting yourself feel anything is a risk...
Ron: Lynnette, we are not booking a cheap cruise ok so please friggin' stop!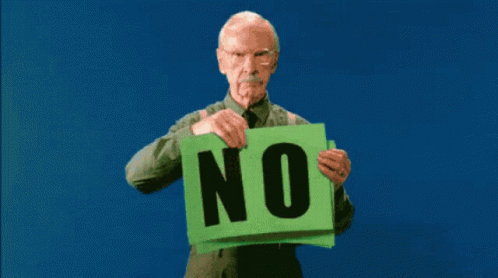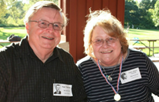 Roger and Carol Albers Pederson
Roger: There's a run on toilet paper.
Carol: We'll be fine.
Roger: Did you stock up?
Carol: We have your books.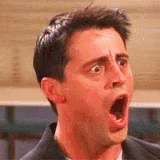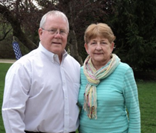 Dean and Lois Graf Schwarten
Lois: Quarantine Month 6 - I've become very aware of Dean's toenails and I'd like to be voted off the island NOW!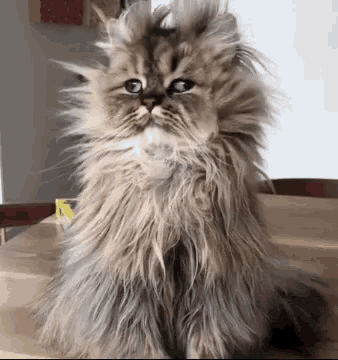 Wayne and Terry Reineck
Wayne; (Sulking …)
Terry: What's the matter now?
Wayne: You said I was stupid.
Terry; I never called you stupid, but when I asked you to spell "orange" and you asked me the fruit or the color … it kinda caught me off guard.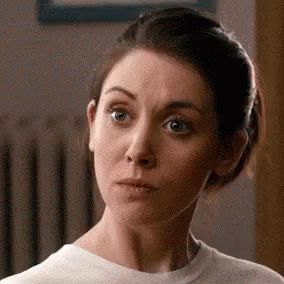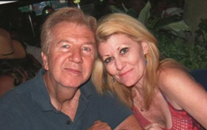 John Stanelle and partner Brenda
Brenda: (eating chips in bed)
John: I thought you said no eating in the bed.
Brenda: We live in a different world now.
John: (smiling wickedly and reaching under the covers) So, can we ………
Brenda: (interrupts) No! I told you I'd never agree to …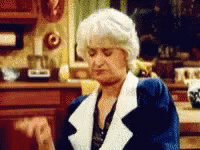 Rod and Linda Gehrig
(On a grocery shopping trip)
Linda: I can't remember beef ever being this expensive
Rod: Would you say the steaks have never been higher? LOL
Linda: Please go wait in the car. OUR car this time.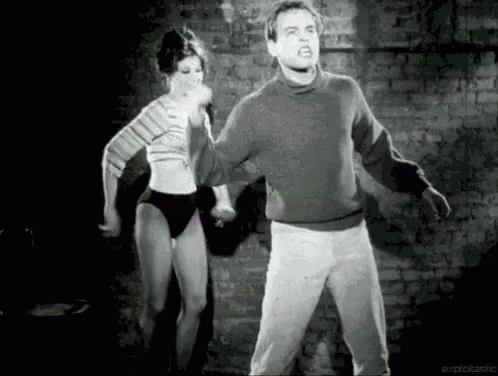 John and Marilyn Griffith Bauer
John: You amaze me. During this quarantine whenever I get mad at you, you don't seem to get upset. How do you manage it?
Marilyn: I just go and clean the toilet.
John: How does that help?
Marilyn: I use your toothbrush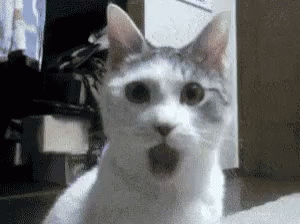 Don and Peggy Luckow
[Month 5 of quarantine)
Don: (sitting down to dinner) What's this?
Peggy: A delicious plate of Cheeto's. I ate everything else already.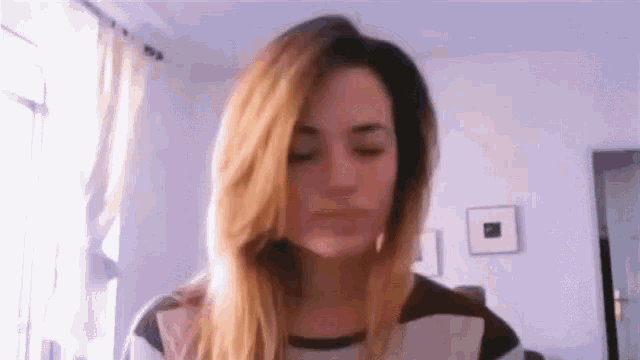 Ken and Luanne Pallaske
Luanne: This quarantine has taught couples something.
Ken: What?
Luanne: Before getting married you should think long and hard about whether you could survive an indefinite isolation with that person.
Ken: Is there something you want to tell me?
Luanne: Sweetie, if you don't stop constantly singing, "M m m m my y y y y Corona …" you'll have something to worry about more than a worldwide pandemic!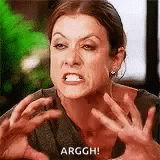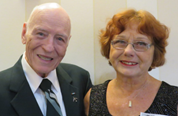 General Russ and Patricia McCarthy
Russ: (Quarantine Day 1) This is going to be so great we'll be able to do some real bonding
Pat: (6 months later) I swear if you breathe like that one more friggin' time I will burn this place to the ground!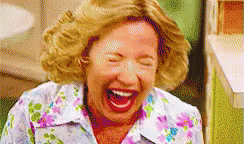 Ray and Linda Thompson
Ray: Did you hear about those murder hornets? So crazy!
Linda: I bet their husbands chew like you
Ray: What? Me: Huh?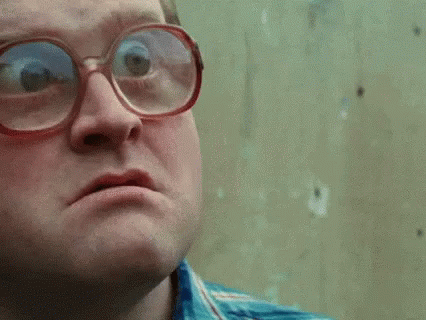 Gerard and Kathy Piette Iwinski
Kathy: What's burning?
Gerard: I'm making a grilled cheese
Kathy: You know you're supposed to use bread, right?
Gerard: I'm going low carb
Kathy: That's an entire block of cheddar
Gerard: PROTEINNNNNN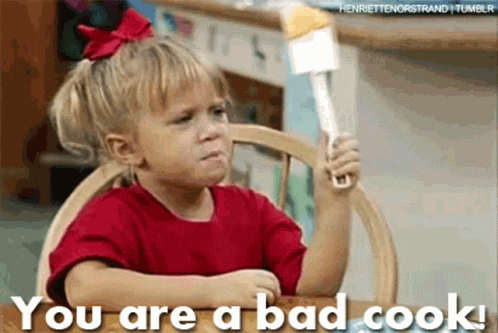 Jerry and Christine Skopek
Christine: "Let's cuddle on the couch and watch something." \
Jerry: (what he hears) "Let's have sex in like 15 minutes."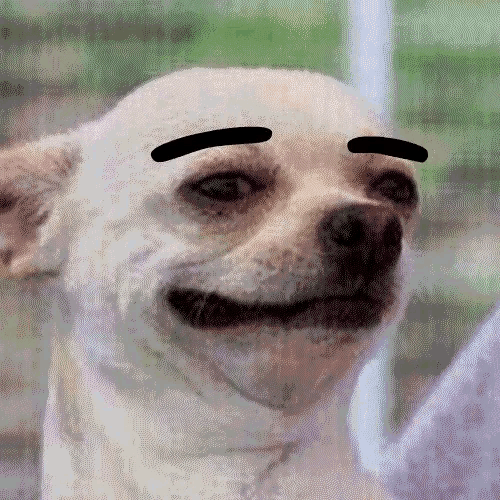 Lance and Eileen Eigenfeld Miller
Lance: I found $20 in the parking lot!"
Eileen: Wow, what did you do with it, donate to Ronald McDonald House?
Lance: No, I thought ,,, what would Jesus do?
Eileen: Oh … this is going to be good. Pray tell what you did?
Lance: I turned it into wine.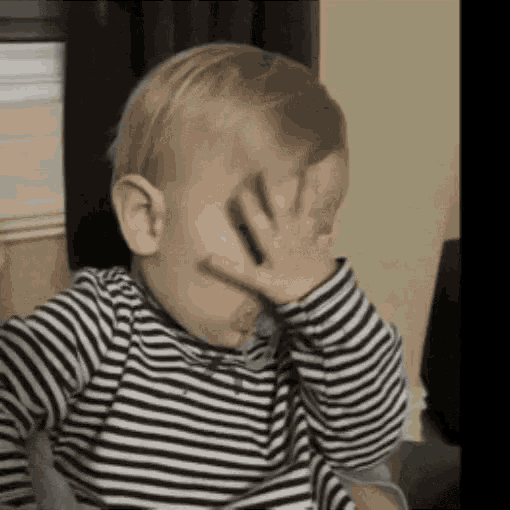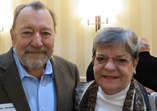 Dennis and Ellyn Steinbach Sorenson
Dennis: If you knew how long this quarantine was going to last, would you do anything different.
Ellyn: Yeah, I'd have ordered dessert at that restaurant we were at before this started.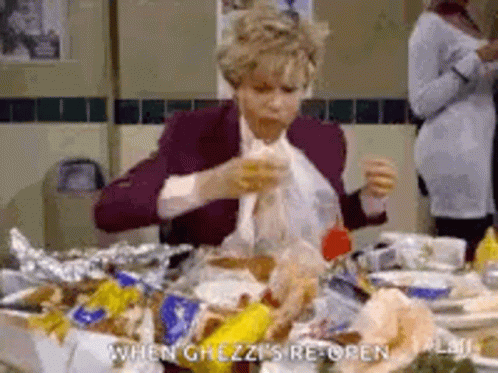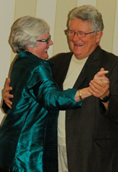 Karsten and Nancy Davison Boerger
Nancy: So in retrospect, not a single person, including you got the answer right, Mr. Know-It-All!
Karsten: What are you talking about?
Nancy: Back in 2015 when we did that survey, "Where do you see yourself in 5 years".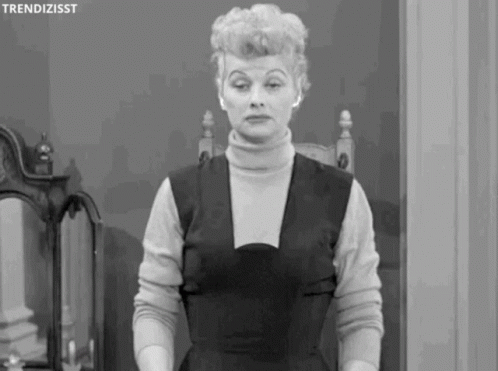 Rich an Julianne Simone
Rich: I learned about a do-it-yourself home Covid 19 test
Julianne: Gee … that'd be awesome. How's it work?
Rich: Every night about 5:00 we open a bottle of wine, smell it and then pour some in a glass. If you can smell it and taste it … YOUR GOOD! Then we can finish the bottle.
Julianne: You've been talking to Ron Willman again, haven't you? Darn it, didn't you promise me … ?