Custer High School
Class Of 1962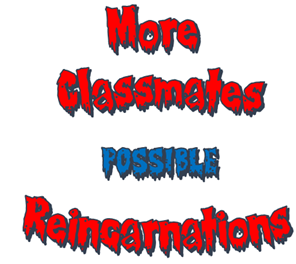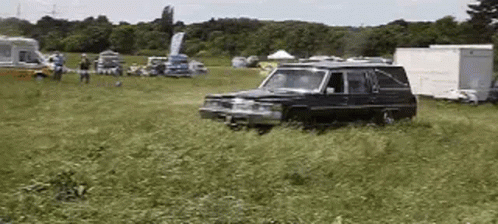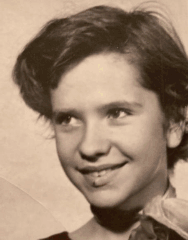 Karen Krause – This ever mischievous and unpredictable lady still looks beautiful in her 70's. It might surprise you to know that she made her living for a big part of her life driving semitrailers cross-country for UPS! You might not know that she and her very handsome big brother Keith, who passed way too early, were both polyglots … languages coming naturally to both. It was Karen who organized a good old German 86th birthday party for Emma Jungton just days before Emma died from ALS. No wonder Karen might come back some day as a young Angela Merkel, Chancellor of Germany, and become one of the most powerful women on earth! And she'll have the Autobahn to play on!!!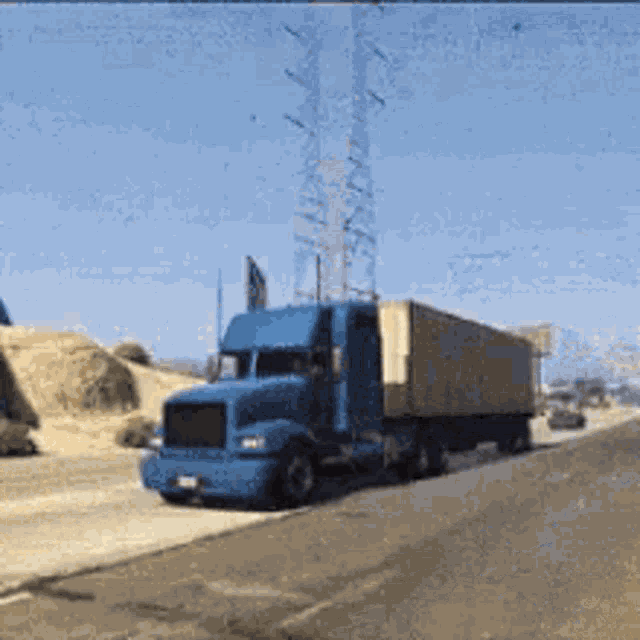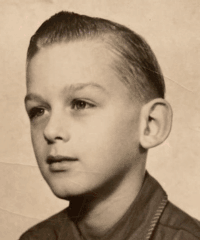 Kent Zahn – Speaking of powerful, Kent was always enamored with the similarities of his name and The Man of Steel … Clark Kent. Is it any wonder that someday he sees himself in that very role, saving humanity and capturing the love of Lois Lane! "Let me take you back to my place and I'll show why they call me the Man of Steel!"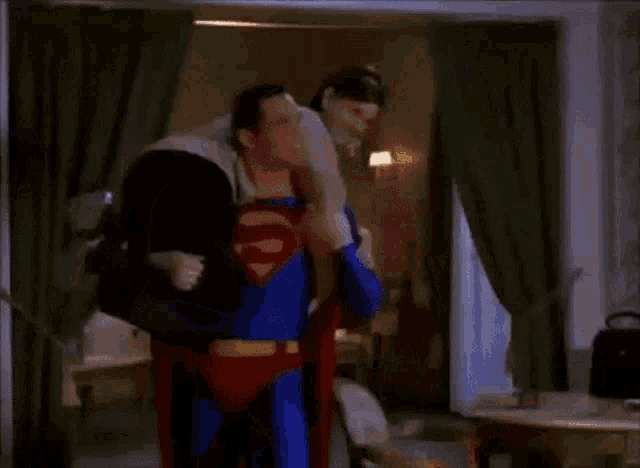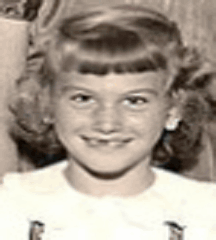 Leslie Werner Zahn – Ever the beautiful woman with captivating eyes, Leslie isn't having any of this Lois Lane crap! It took decades to mold Kent into the man he has become and she's not going to let all those years since high school go to waste! Kent may become powerful in his new identity but an equally powerful Leslie isn't going to be silenced … especially around female reporters! Check the "captivating eyes"!!!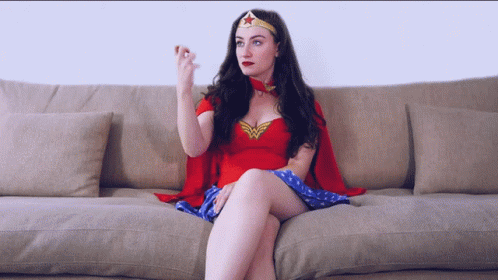 Eddie Lewis - Eddie has always been smooth and unflappable. He was by far the best ball handler and playmaker on the Custer basketball team. Is it any wonder that Eddie can see himself coming back as one of the most spectacular, most fun loving, most likeable basketball players to ever grace the court … Steph Curry. If we'd have had a 3-point line back in our time Eddie would be out there shakin' and bakin' just like Steph!!!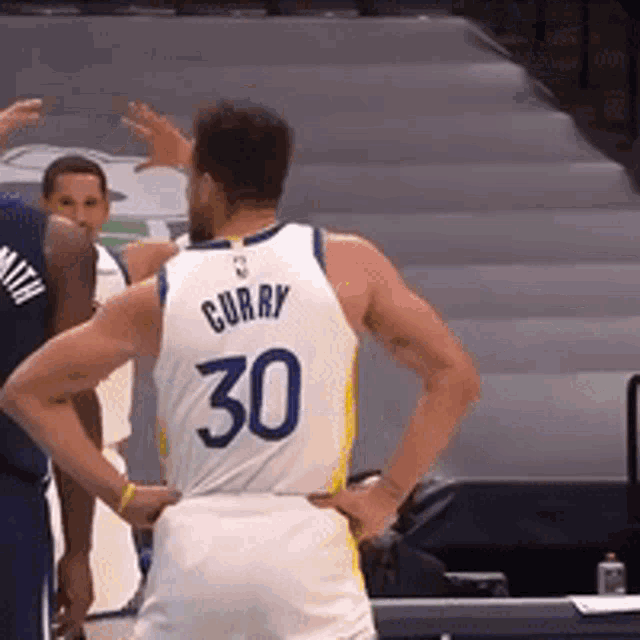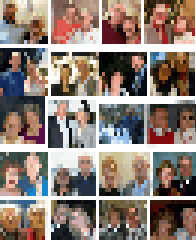 David Holm – David escaped the cold climates for the state of Florida but now has moved to the Carolinas … a place known for its furniture manufacturing. Dave has been an admirer of Chippendale furniture and he is said to want to come back as something in the classic Chippendale line himself. Now we see what he meant! You can take the dirty old man out of Wisconsin but you can't let the dirty old man start froggin' around near a pole!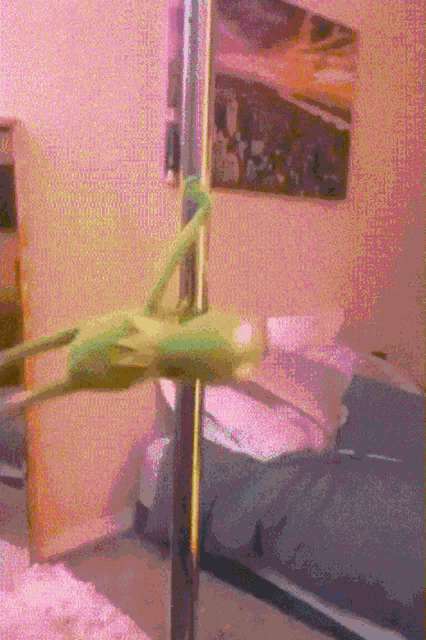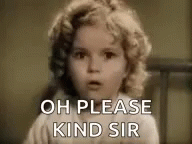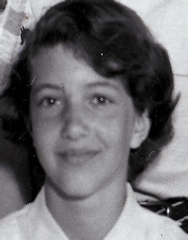 Trudy Bubloz LaBonte – Trudy has always been perceived as this reserved, very kind and gentle girl and lady. But we have learned that she may well be related to that murderous flirt Vilma Kelly from the musical "Chicago". She won't tell us where the bodies are buried but she assures us that "they had it coming!" And in her next life the truth will be told … the hidden Trudy! (By the way, did you know that "Chicago" was based on the real life stories of two women in Chicago? It is conjectured here that the women were actually from Milwaukee but Ray Fosse and Trudy thought The Windy City played better.)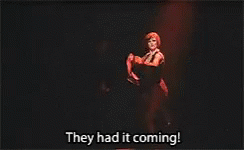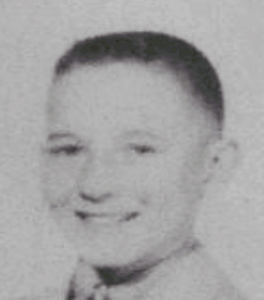 Bill Gregorius – The ever smiling Bill has been called a big Teddy Bear by some of his longtime admirers. Bill took a liking to that moniker and thought that'd be a good way to spend his next lifetime. Now that we see what he has in mind we realize he is one clever dirty old man!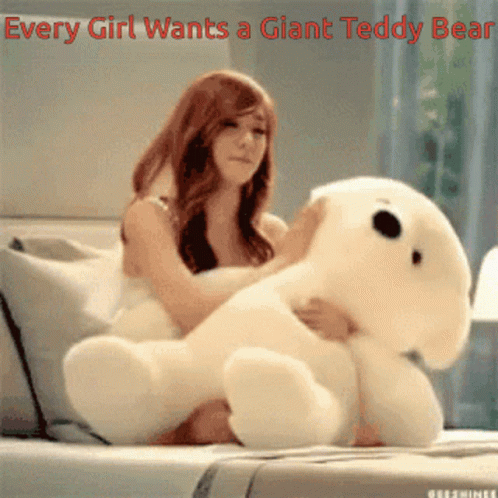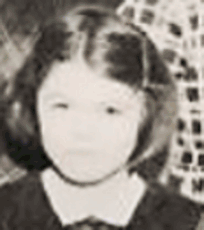 Coleen Kober Marshall – Coleen laments that over her lifetime she's never been able to carry a tune. It's the only thing at which she ever failed. So the next time around Coleen has asked to come back as a songbird. As we see, she has her choice of being a bird who can only chirp, wobble or screech or being the next incarnation of Julie Andrews and bring the sound of music to the hills around Wisconsin.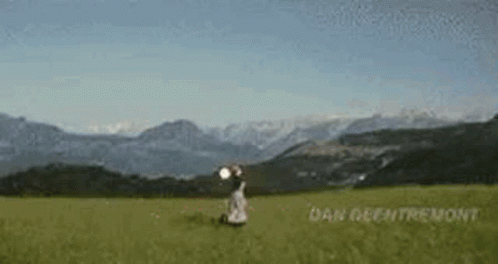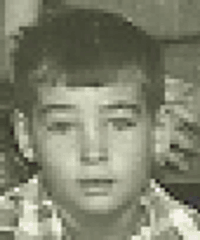 Mike Franke – If you read Mike's bio you can see that he's traveled the world to see exotic places and endangered animals. Mike doesn't want to be endangered himself and wants to come back as one of the mightiest of terrifying animals. And if you notice, they have the same confident smile!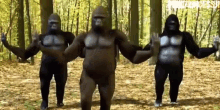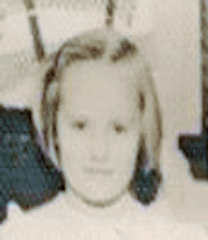 Judy McConnell Anderson – Judy has always had that lovely smile and innocent "Who me?" expression on her face. She knows how to turn on those magical charms. She says one of her favorite pastimes was SCUBA diving. We think, however, she'll be able to turn both her beguiling charms and mischievious impulses into new oceanic adventures in her next life.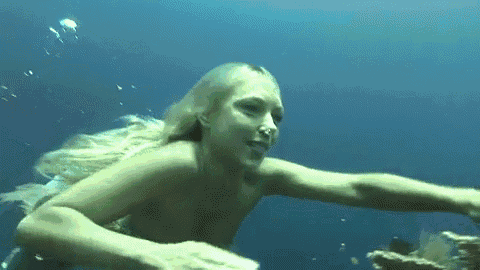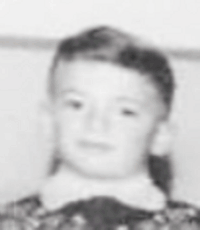 John Ruhland - John apparently spent a good deal of his life with a wrench in his hand. He apparently like to be around powerful engines. In his next life he's going to come back as a powerful, sleek machine who gets all the attention ... sometimes whether he wants it or not!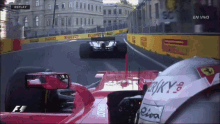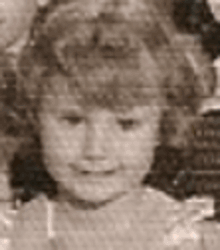 Judy Boelke Kenehan – Judy has always been a fun person to be around. And maybe she found her niche when she took over the social chair for her adult community. It looks like she wants to make that a permanent feature in her life next time around! She looks well qualified!!!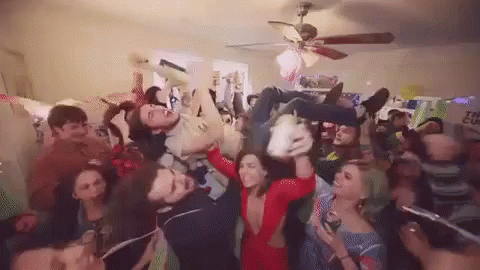 There you have it, the hereafter for some of our classmates unless we get more youthful photos! So far only one person is supplying proof that we were once young together!!!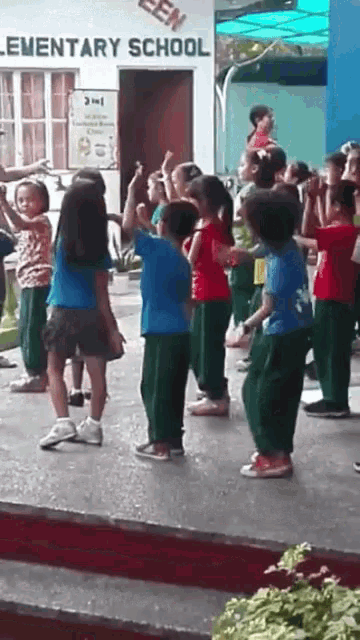 - - - - - - - - - - -
Views of Classmates
The Past, Present and Future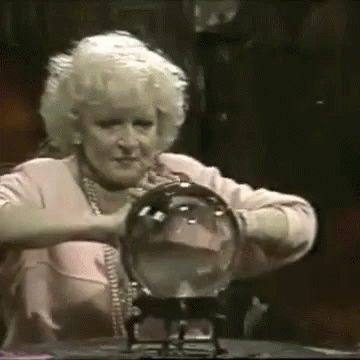 So on to the next adventure … views of our classmates in the Past (old school photos), the Present (reunion photos) and the Future … if there is reincarnation, how our classmates want to return the next time around. Warning … some of these are shocking and not for the faint of heart.
And our classmates even have an observation or two about anything that comes to mind … and anything coming to mind at this stage is reason for hope!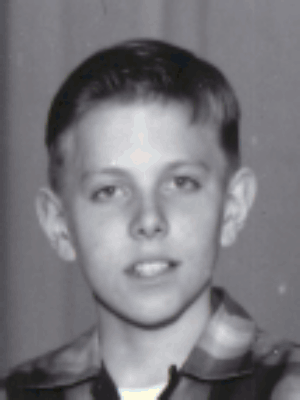 John Gilbert – John says that since he has painted the inside and outside of his house, how hard can it be to paint a little canvas? So lookout da Vinci … John is going to challenge you someday!
"These are strange times. First I found a hat filled with money … then I was chased by an angry man carrying a guitar!"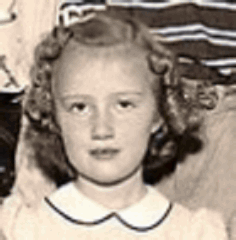 Kathy Piette Iwinski – There are classmates who look every bit of the 75+ years of our existence. Then there are people like Kathy who somehow never seem to age. Kathy is going to come back as cute and cuddly as she ever has been but this time around she's going to proudly wear adorable wrinkles!
"Husbands are the best people to share secrets with because they'll never tell anyone. That's because they were never listening in the first place!"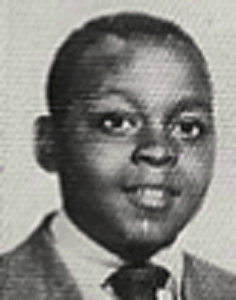 Charles Perkins – Ever been around Charlie when he's not smiling? That's because he knows that when this pass through is over he's coming back as the Godfather of Soul! He says he feels good!!! And he looks good too!
"Huh … exercise? Damn, I thought you said "extra fries!"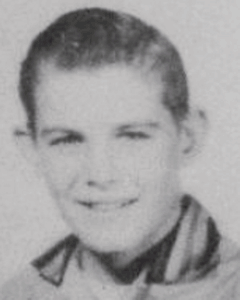 Ray Thompson – Ray brags about being "up nort now" and that's how he's coming back the next time around. As a big black bear he'll be by the lake and can go hunting and fishing any time he wants and gets to sleep 4 or 5 months at a time!
"At this point I am about 98.9 percent feral and will not be able to be integrated back into society."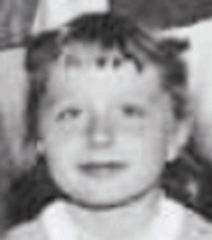 Patricia McCarthy McCarthy (yes her husband's name is also McCarthy) has kept miniature horses as gentle pets, playful companions and trusted confidants. But not Pat, she's coming back as a beautiful wild filly, never to be tamed again and she can kick up her heels anytime she wants!
"To all the people that make me laugh and smile … I couldn't live without you!"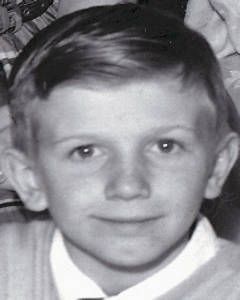 John Stanelle – For many years John was involved in the hospitality and entertainment business in the Milwaukee area, at one time even owning the Eagles Ballroom! He's always been a bit crazy, a little out of control and has a whole lot of shakin' going on! And totally unpredictable!!!
"I went to get my second shot of Covid vaccine and on my way home I had blurry vision. When I got home I called the vaccination center for advice and if I should see my doctor or go to the hospital. I was told NOT to go to the hospital but to return to the center and pick up my glasses I left there."
Nancy Lord Malvick - It was quite a burden to carry the name of Lord before Nancy married. People had preconceived notions about how angelic she should be. However, we now know what evil lurks behind that lovely, warm spirit of Nancy. Next time around she'll put the fear of the devil into all of us!!!
"Instead of cleaning house I just watch an episode of "Hoarders" and think, "Wow, my house looks great!" she said with a devilish grin.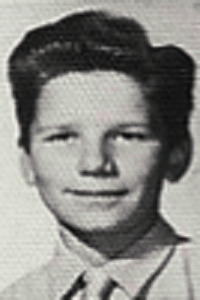 Ken Pallaske – This is a bit strange because you can't come back to something you've always been. What's the saying, "Once a Marine, always a Marine!" (Editor's note: Remember, a Marine is just an Army soldier with 3 photographers and a publicist around him/her.)
"The function of the little toe is make sure all the furniture in the house is in its proper place." Spoken like a Marine!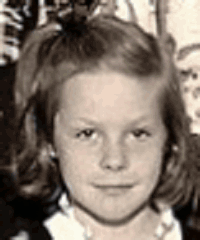 Peggy Powlowski Finch – Peggy escaped from Wisconsin by moving to South Carolina in 1964. She will never admit it but she misses the harsh winters of Milwaukee. That's why she has secretly planned to come back as Elsa from "Frozen" with magical powers to spread ice and cold wherever she goes! She'll be a real hit in South Carolina.
"I was just wondering, does anybody else get road rage while pushing a cart through Walmart.'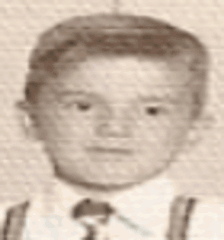 Garry Sellers – I've eaten a lot of strange things in a lot of different locations around the world but I haven't found a better pizza than what we used to get at Pete's on Capitol Drive. It's long gone but now I'll settle for the best garlic bread ever … from Mama Mia's! And that's what I'm coming back as, that way I'll never be without it! And everybody will want me … for all the wrong reason but hey, you can't be choosey. And I'll make people feel warm and buttery.
"I may not be the most important person in your life, I just hope that when you hear my name you smile and say that's my friend."
There's more of these "morphs" coming. The limitation of who is featured is how many old class pictures with which we have to work. We'd like to get lots more. Just send me a copy of your old grade school or junior high class pictures and we'll do the rest. But be sure to point out who is who, if you can remember! Some of the ones featured today came from "Old-time Photos" in the left-hand column. It's up to you.
- - - - - - - - - - - - -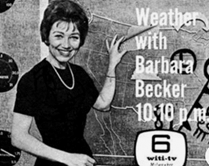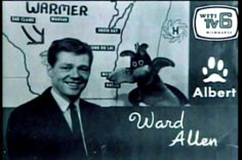 Barbara Becker, who always seemed to be exceedingly happy, and Ward Allen, both weather people at WITI, Channel 6 (which at one point was located at 27th and Silver Spring, almost in Pat McCarthy's backyard! Then that location became a Mama Mia's but it sadly went away) along with Albert the Alley Cat. Barbara had a cartoon show too with Albert, and it may have been called "the Funny Farm."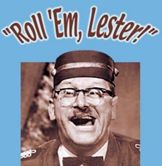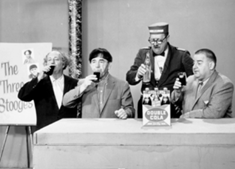 "Pops" of "Pop's Theater" (a.k.a. Tony Richards) featuring the 3 Stooges … who actually paid a live visit!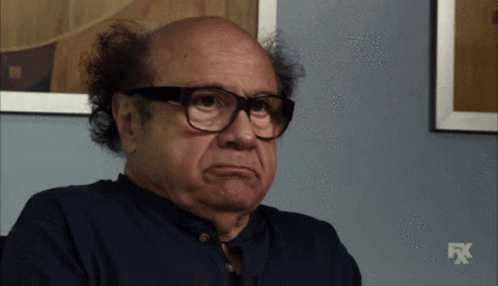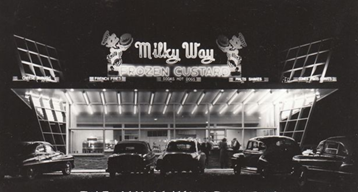 Milky Way Frozen Custard Stand
The Milky Way Frozen Custard Stand on Port Washington just south of Silver Spring. (Was that considered Whitefish Bay?) At one point the carhops were on roller skates and my sister wanted desperately to one day get a job doing that. When my family made a rare visit we had at least 4 kids in the car. The order was so big that they had to bring two of those trays that attached to the window! (Where were the carhops when it came to taking the tray and garbage away?) And a visit wasn't complete until somebody spilled their drink or dropped their hot dog on the floor. Later, a fun place to take a date.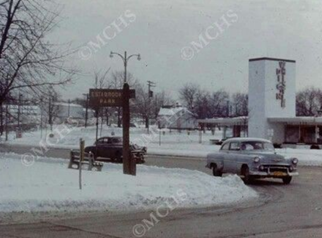 Pig & Whistle
The Pig & Whistle, otherwise known to us groupies as "the Hog and Horn"! This is a real photo of it coming out of Estabrook Park on a typical Milwaukee Spring day! (Didn't they also at one time of carhops on roller skates?) As teenagers we almost always went inside which was supposedly the inspiration for "Arnold's" on Happy Days. That's where somebody taught me to dip my French Fries in 1000 Island dressing … as if they weren't bad enough for you already!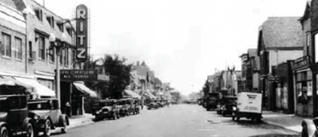 Ritz Theater - Villard
This 1930's scene of Villard looking east from about 37th street was well before our time. But it's the only photo that shows the Ritz before it became the Villa. I remember it costing 18 cents to get in for the Saturday double feature which also included the cowboy du jour cliff hanger and at least one cartoon.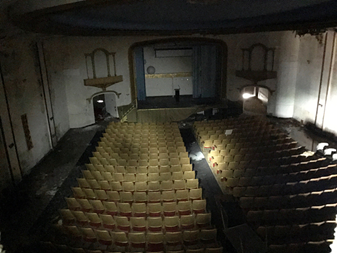 Inside the Ritz
Inside the Ritz (a.k.a. The Villa), taken in recent years after it became vacant. Didn't there used to be a short row of seats on the side aisles that was only accessible by crawling over or under people if you were up against the wall? And didn't they have maroon curtains lining the walls, probably for sound reasons? Of course your feet stuck to the floor from all the soft drinks spilled and never an end to the gum under every seat. Your coat was sure to find both. Something happened in our teenage years when people actually went at night and there were some pretty dark corners in the back rows. There may not have been much movie watching back there, not that I'd know from personal experience. John Griebel told me about it. In fact John told me all manner of things that I found shocking.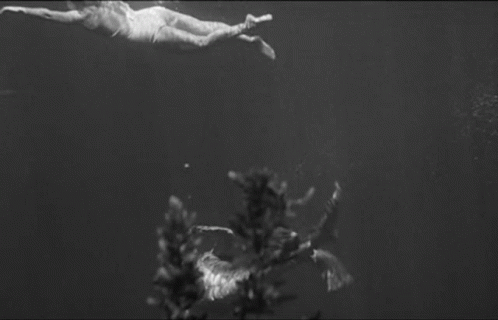 The Creature from the Black Lagoon - 1954
It was at the Ritz when I first discovered total fear! It was the 1954 showing of "The Creature from the Black Lagoon." The terror was so intense that I felt one shock wave after another and it totally consume my mind and body when the creature popped up unexpectantly or was pursuing an unaware swimming lady. I never felt anything like that before and rarely since.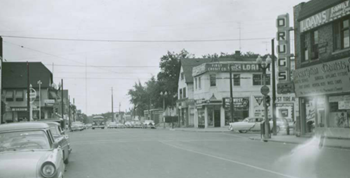 Villard at 35th Street - 1958
Villard, looking east, at 35th street with Prescription Chemist Drug store on the right (where at one time there was one of Milwaukee's iconic "bubblers"taken out by this time), the Petcoff's Standard Oil gas station on the left (with Maertz Department Store just north (left) of the Standard Station.) Next to going downtown, this seemed like the center of the universe. I can remember going to the Ben Franklin 5 and Dime (or was it Kresge's?) with a dollar from my birthday and feeling like I could buy the whole store. And then picking out some piece of crap that fell apart before the end of the day.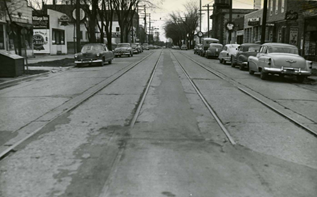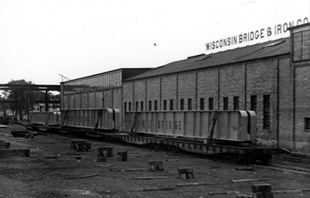 35th Street at Villard
35th Street looking south from Villard, just passed the drug store, Wisconsin Bridge and Iron on the right. Was it Claud's on the left that became a local young crowd watering hole?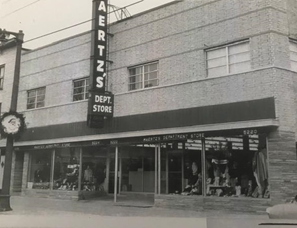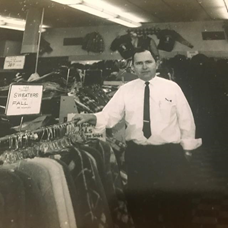 Maertz's Department Store
Maertz's Department store on 35th just south of Villard, across the alley from Petcoff's gas station. Bob Maertz', the owner, in his store was also the father of Susie Maertz from our class who died the week before our 50th reunion. The Maertz's bought the house next door to mine when I was 11. Two cute girls, Susie and her younger sister Sally, were now my neighbors. I was immediately smitten. Susie and I would ride our bikes up to the store, hang out for a while, go upstairs where they kept their extra inventory and walk around Villard. I think it was in 1956 that a fire consumed most of the store and caused the death of their maintenance man. Shortly after that Bob quit the retail business and moved into electronics. He actually just passed away last year at the age of 94!
Susie and I reunited via phone calls 50 years later during the preparations for our class reunion. She recounted that she and I had actually held hands a couple of times! Wow, we were kinda risqué!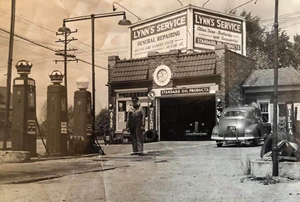 Lynn's Service Station - Hopkins and Villard
Speaking of Villard, do you recall Lynn's at the intersection of Villard and Hopkins? Or ….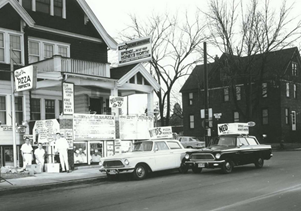 ... Ned's Pizza
Ned's started on Villard about 33rd street. There's a whole long story about Ned and his family. I never was a fan of their pizza but many people have told me it was very good. Ned's daughter married my cousin. But my favorite pizza was Pete's (formerly Piccolo's) at 76th and Capitol. That's gone now so Mama Mia's has taken over the top spot for me when I'm visiting Milwaukee … mostly because of its lethal garlic bread literally dripping with butter!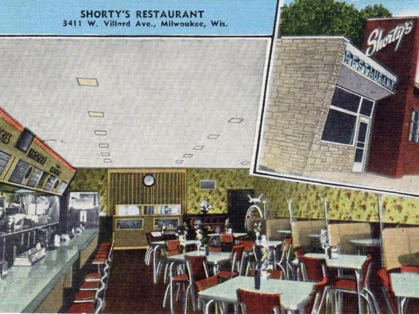 ... and finally, Shorty's on Villard
Not sure if classmates are enjoying these look backs at the "good old days". Let me know if it's time to stop or keep going.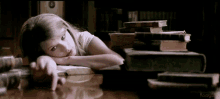 - - - - - - - - - - -
More Milwaukee Memories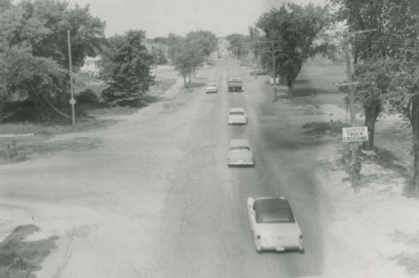 Silver Spring at 51st - early 1950's
Silver Spring was a two lane road with no sidewalks during most of our childhoods. This intersection would be on the corner of McGovern Park on the lower left, and the Army Nike site would be built on the right. And Nancy Root grew up near here on the left as well. I recall walking to Carleton grade school on narrow foot paths along side of the road with cars zipping by a few feet away. After our area was declared Granville and shifted us to Browning at 76th street, during the summer I would ride my bike from 33rd to 76th to play baseball with Ray Thompson, Wayne Oneska, John Gilbert, etc., "sharing" the road with traffic! I specifically remember this area because it began a long, slow uphill portion of the ride, except it was downhill going home!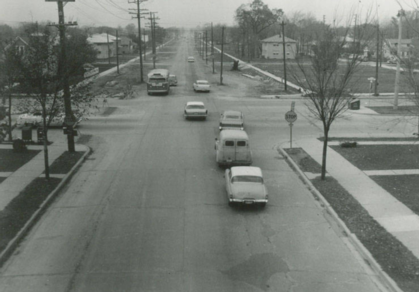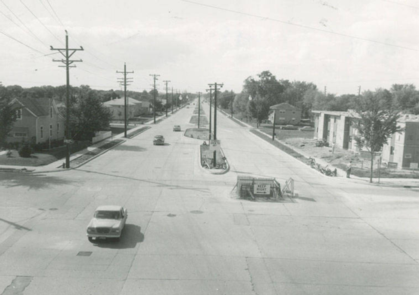 Hampton and Sherman - mid-1950's Hampton and Sherman - 1960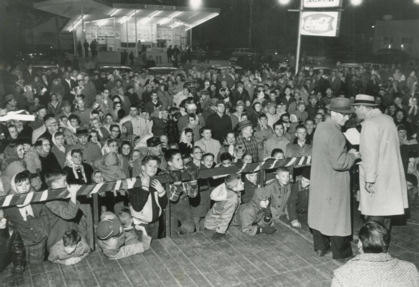 Reopening celebration of Hampton and Sherman - 1960 (Are you in the photo?)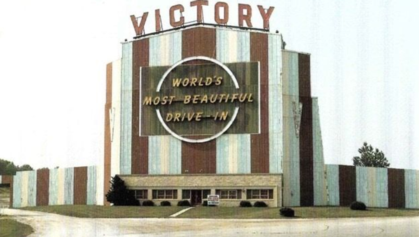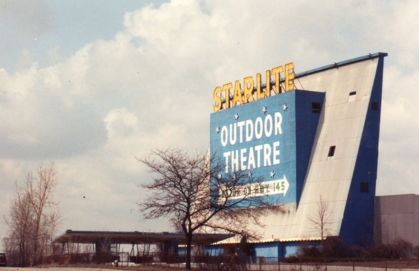 The Victory Drive-in in Butler The Starlight Drive-in in "The Falls"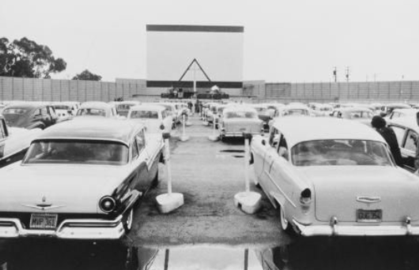 Recollections - Sneaking people in using the trunk; jocking around for the prime parking spot ("prime" being defined by whether you were there with a date or not); trying to find a speaker that works; windows steaming up; a zillion people trying to get to the snack bar or the filthy restrooms at intermission; trying to find your car coming back with an armload of goodies, or worse, going to the restroom during the movie and looking for your car in the dark while trying not to peek into other cars; and Ron Willman practicing palming basketballs with his date ... or so he says that's what he was doing. I do believe there may have been some biology lessons involved here ... unless, of course, you were with your family.
Weather People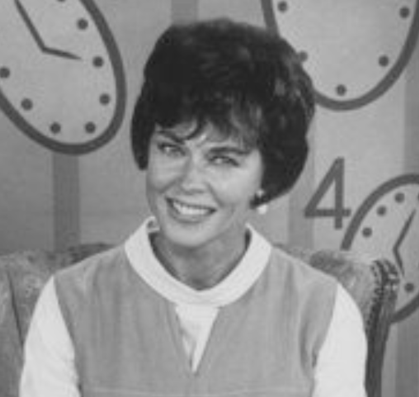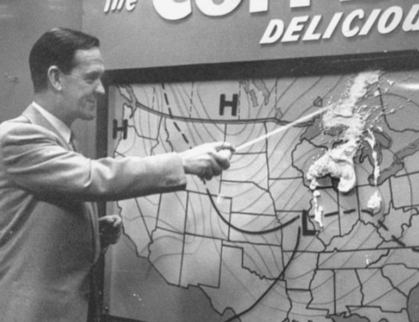 These two are easy, the gorgeous Judy Marks and Bill Carlson
(BTW - Judy died in 2011 at the age of 83.)
But do you recall the names of these people and their friend?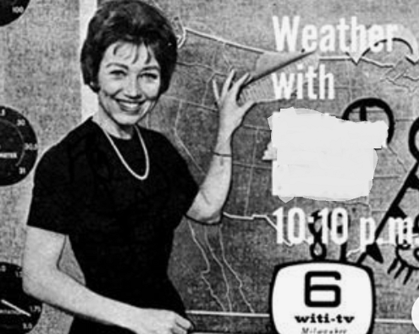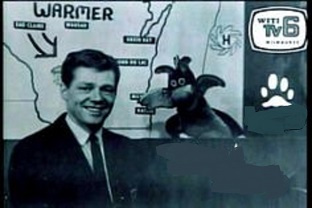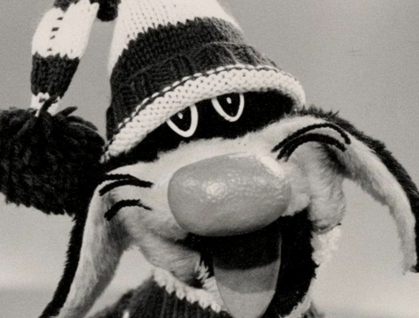 And finally ... who is this guy?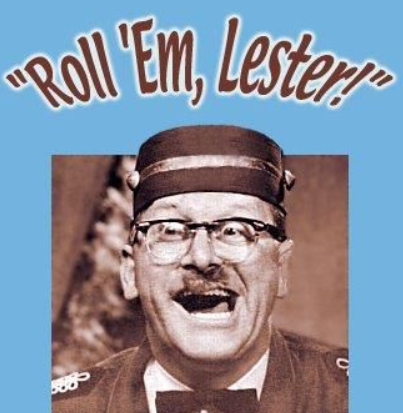 - - - - - - - - - - - - -
Childhood Memories
in Photos
Recently discovered photos from our old stomping grounds on the northside of Milwaukee. There's a bunch of them and each of them transport you back to those days gone by. There's only room for a few of them on the website so here's a sample today. Then it's time to figure out how to put more on the website without using up all of our memory allocation.
Some of these will bring out specific memories for you. We'd like to hear about them. Use the "Message Forum" to tell us your story.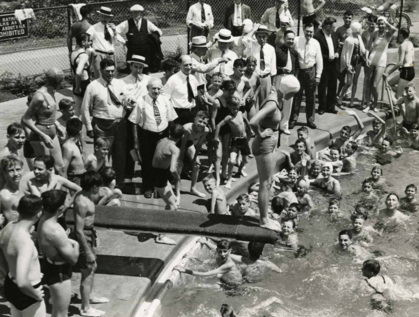 The caption for this photo says, "Silver Spring Pool" and has no date. But clearly it must be McGovern Park pool and perhaps the grand opening. Maybe it was the forerunner of the McGovern name or the lack of knowledge of the archivist. Not many girls around and a bunch of old pervert guys in white shirts gawking. Ron Willman insisted on pointing out that besides the girl on the end of the board there is another girl waiting at the back of the board. To the right of the second girl is a man with his tie askew. Behind him is another girl ... who appears to be having swimming suit equipment problems! (You may have to exam it as closely as Ron did!)
McGovern pool ...foot inspections; wet changing rooms that got your clothes soaked but mostly your underwear; wire baskets for your clothes with numbers on pins that were sure to open unexpectedly while swimming; puddles of water on the deck heating in the sun in which kids laid, along with a zillion germs but it was warm; getting in line for tickets at 11:00 in time for the opening and staying until late afternon (sun screen? what was that?); the snack bar with mostly junk; and most everybody has a story of almost drowning at one time or another and/or learnng how to swim!!!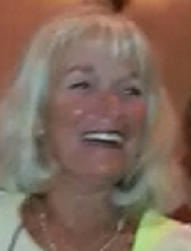 Smith Park wading pool .. or locally known as the pre-school walk-in toilet. Smith was just a block away from Edison Jr High and across the street from several of our classmates' homes. It's thought that at some point the pool disappeared or was at least closed for many years. It was around the time of the '50's polio pandemic during which many public water facilities were shut down, including the iconic Milwaukee "Bubblers". In the Army's basic training camp I almost got laughed out of the barracks when I asked somebody where the bubbler was. They had no idea what I was talking about.
Town Pride ... this one is thought to be the one at Teutonia and Villard. There was another somewhere further up Villard, around 60th Street? How many "ice cream" cones did you consume from there? And I loved their hot dogs! Do you know that hardly anybody in California knows what custard is? What was the name of the custard stand across from Carlton on Silver Spring?

WTMJ transmission tower being built, 1952. Clearly this is the safety inspector carefully making sure all the bolts are tightened and the crain cable is strong enough. I do remember riding passed it while under construction.

1952 - WTMJ transmission tower completed.
If you'd like a copy of any of these photos, just drop a note to me under "Contact Us" and I'll be glad to email or text them to you.
If there's interest in these, there are plenty more available. Let us know.
- - - - - - - - - - -
Check out the "In Memory" tab for information on the rediscovered commemorative video for our classmates who had passed prior to the 50th Reunion