Custer High School
Class Of 1962
Custer 1962 Website Usage
I was recently asked how long we'll have our own website. The response is, as long as people continue to visit. The website records only the most recent visit. The simple statistics are that so far in 2023 there have been 41 people from our class who have visited the website and their names were recorded. An additonal 27 classmates, not the same people, visited in 2022. So we know that in the last two years at least 68 classmates have looked at the website. Any one person may have visited 100 times during that two year period.
The statistics count only those classmates who have registered on the website. Other classmates could have, and probably did visit but didn't want to go to the effort to put in contact information. There's a lot they can see without registering; Message Forum, Reunion Photos, In Memory, etc. And there's no way of knowing how many people have looked at our website purely out of curiosity ... or accidentally.
- - - - - - - -
100 Years of Movie Quotes
Mitch Heinrichs shared a YouTube video with a few of us that is probably of interest to most of our classmates. It brings back a lot of memories and a certain comfortable feeling ... not to mention warm smiles ... from days gone by. Be sure to turn up the volume and expand the video to full screen by clicking on the little box in the lower right-hand corner. Hit "Esc" on your computer to return to the normal page.
Enjoy and ... here's looking at you kid!

!!
- - - - - - - - -
The '60's
Okay, last issue we looked back at the '50's, a time when we mostly thought about today, what we were going to do for fun, being with your neighborhood and/or school friends, thinking about a scary upcoming test, watching our black and white, square TV's, etc.
Now the '60's, truly a time that changed America and most certainly our lives. Now we were dealing with careers, maybe going on to college, and most certainly that important "other" person we want to share our life with ... maybe some heartbreaks along the way. Conflicts ruled: this career path or another; stay in the Milwaukee area or move; war and the draft; have kids or wait; decisions, decisions, decisions. And once made, hard to go back.
Here's one look at the "60's. Brings back a lot of memories.
- - - - - - - - - -


Bet You Didn't Know … that the average lifespan in the United States has dropped from 78.9 years to 76.1 in the past two years? They blame it on Covid. I guess that means if you're a classmate of ours, you're living on borrowed time!!! That suggests that we'd better get moving on some of the other "Bet You Didn't Know" events before they become part of our obituaries
!
For this edition of the game, we will list several life "events" for each of the classmates. You need to determine if it is True or False. At least one, if not all, of the "events" for each classmate is true. The answers are listed under
"BYDK Answers"
in the left-hand column.

Barbara Blair Bexel
T or F

– Hooked up with John Griebel at one of the earlier reunions. The next night went out for pizza with him to Pete's (Picciolo's) on Capitol Drive and Appleton. Finished the evening by throwing up in his car on the way home!

T or F

– Had a few too many "adult" beverages one night and somebody dared me to climb to the top of a barn silo on a skinny, rickety ladder. I did it … even though I'm afraid of heights!

T or F

– Fought off a bad guy who attacked me when I was coming home from the grocery store. Grabbed his throat and attempted to knee him in a vulnerable place! He ran off!

T or F

– Actually came in 3rd place in a karate tournament when I was 23 years old. It was opened to both males and females and I beat several guys who were much bigger than me.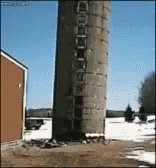 Wayne Reineck
T or F

– Auditioned for the lead in the senior class play, The King and I, even though I can't carry a tune in a basket (neither could Yule Brynner). Bruce Ortmann got the part only because Coach Henderson wouldn't excuse me from swimming practice. Ms Sherwood told me she liked me best. I coulda been a star!!!

T or F

- At Custer was swimming in the 100-meter free style race against guys from King and South Division. It was an extremely close race and I kept trying to see the guy in the lane next to me. I was so intent on beating him I didn't realize I was close to the wall. I bashed my head so hard into the wall that I blacked out. But I won!!!

T or F

– At a Badger football game I became the person they were passing overhead from one of the bottom rows up to the top. By the time I got half-way up the stadium I had lost my wallet and car keys, but I saved most of my beer! I was a hero for a moment until trying to figure out how I was getting home.

T or F

– At a beach in Florida I recognized one of our classmates from Custer, but I couldn't put my finger on who he was. So, I went over to him and said, "I recognized you from Custer but don't remember your name." He swore up and down that he didn't go to Custer and then said rather indignantly his name was John Lithgow. Later I found out he has been in over 40 movies!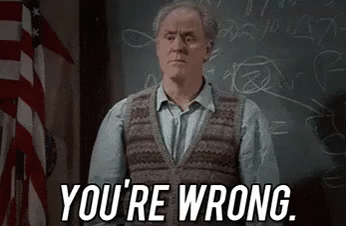 Coleen Kober Marhall
T or F – I was volunteering in the Lost and Found at Custer amidst mounds of gloves, scarfs and jackets when I noticed a rather large bra! I figured it was a joke that maybe somebody like Sandy Wachs or Judy McConnell was playing on another Lost and Found volunteer. As I was about to leave for the day Ms Sherwood came nosing around, saw the bra and said, "There it is!!! I wondered what happened to that! It's mine. Those darn kids! One of them got into my wardrobe bag … again!"

T or F – Won an all-expenses paid trip for 4 to Walt Disney World from a radio station, WTMJ. We left the kids at home and took the next-door neighbors instead!

T or F – A couple of years later won a second all-expenses paid trip to Walt Disney World on the WTMJ "Zip-a-dee-doo-dah" game where 100 people qualified for 5 trips. I won one of them again! This time we agreed to take our kids!

T or F – I got lost on my way to Madison for a get-together with a few old friends. I wound up in Lake Geneva going the wrong way on a one-way street, trying to get back to the freeway. The police officer was very nice but it still cost me $75 and I missed the meeting because I was so upset and late.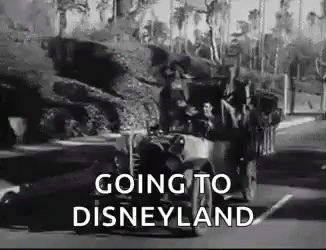 Nancy Davison Boerger
T or F – My husband Karsten, his sister Gisele and I were at Oktoberfest in Munich. I was so amazed at the number of huge steins of beer (1 liter stein = 5 pounds) these little waitresses could carry at a time. After finishing one myself I got to talking with the young lady serving our area. She dared me to see how many I could carry. So, on our next order I went with her to carry them back. It was all I could do to lift 4 of them at a time and she was carrying 10! Some drunk Aussie bumped into me on the way back to our table and I dropped all 4!!!

T or F – I always wanted to go to Sydney Australia to see the Opera House on the harbor. Karsten and I finally got around to going there, where we rented a boat and cruised around the harbor. On an impulse I jumped in and swam for a little bit. When we got back to the dock the rental agent told us that the harbor is infested with sharks!

T or F – In 1994 Karsten and I sailed to Uruguay and around Argentina. At one point we were boarded by Brazilian pirates, and believe it or not, they were all women! We were aware of that possibility, so we didn't have anything valuable on board. In fact, one of the women spoke German, a descendant from WWII Germans who flocked to safety in South America. She got along so well with Karsten that she ended up inviting us to visit her family in Porto Alegre.

T or F – Also while living in Argentina we went up a narrow rocky canyon to a beautiful jungle pool and waterfall, where you could just see the sky through a narrow opening. Later Karsten informed me that if we'd have been caught in one of the many sudden tropical rainstorms we'd have been washed away!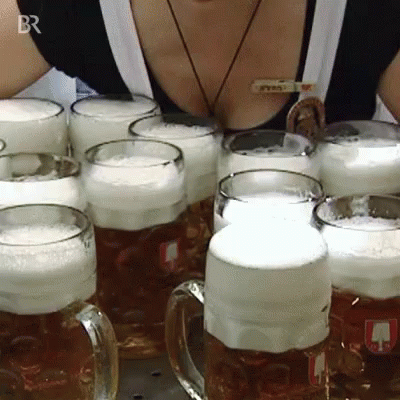 Gordy Sauer
T or F - I wasn't known as a finesse basketball player. My style was to crash and bang and sometimes when I was lucky, I scored or snagged a rebound. Playing in a Salvation Army summer league at their gym on Villard, Garry Sellers and I were teammates along with players from all over, including U of Marquette. One game we both went after a rebound, but I was a tad late. I ended up bashing the top of my head into Garry's chin who had already leaped for the rebound, jamming his teeth through his lip. I got a nice gash on top of my head. After a brief timeout, we both continue to play in the game but to this day Garry still complains about the scar tissue he has in his lip.

T or F – I once had a job working at a Walgreen's lunch counter. I was asked to change the bladder in the milk machine. I had to get full bladder in the machine, pull down and then thread the rubber tube through the dispensing handle. However, in the process I accidentally pulled out the nipple at the end of the tube. The only way I could stop the milk from pouring out was to stick my finger in the end of the tube. I learned a lot that day about milk bladders and where to stick my finger!

T or F – Another member of the basketball team and I once arranged for a bus to take Custer students to one of our basketball games out in the boondocks … Elkhorn. Of course, we happened to neglect to get the school's permission … but what they didn't know wouldn't hurt them. Unfortunately, they found out!

T or F – While I was at school at St Norberts outside of Green Bay, I was seriously dating a girl named Judy. She was a very put together and often wore quite revealing clothes. She decided I should meet her parents, so she invited me to some kind of event at their beach club, a few miles up the shore from Green Bay. OMG! "Beach Club"!!! Sounded kinda swank. Wasn't sure what to wear but when I got there, it didn't seem to matter. It was a private nudists beach! I didn't have the nerve to go in and never saw any part of Judy or her parents again.

Answers under "BYDK Answers in left-hand column
- - - - - - - - - - - - -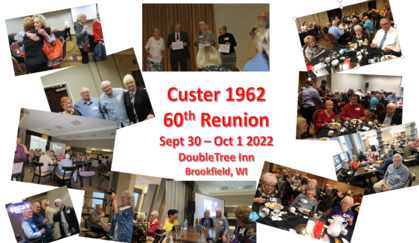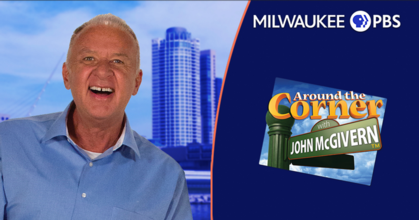 Those of you still living in Wisconsin, especially the southern portion, may well know about the KQED series "Around the Corner with John McGivern." Most of us living in other states have never heard of it. Terry Levenhagen Hoostra was kind enough to suggest looking at one particular episode, "Havenswood State Forest" (named by a Custer High student). Sounds like a remote part of the state? Nope, it's the area that we, as kids, had known as the area around 61st and Silver Spring, over to Hopkins and out to Good Hope. It was the home of the Army Nike Site and the "Disciplinary barracks".
And now it's a state park and this episode of Around the Corner goes into the details. (Just click on this link)
www.pbs.org/video/havenwoods-704-kfvvil/
But note that this is from Season 7, episode 4. If you scroll down the page a bit you'll see a tab on the left hand side that says "More episodes" and on the right hand side that says "Season 7". If you click on "Season 7" you'll find a drop down menu with the programs for all 9 seasons. Check them out. For example, Season 9 Episode 12 features Christmas in Milwaukee past and present. There's live video of Capitol Court's Christmas display and lots of other familiar displays. Season 9 Episode 11 is called "Then and Now" and looks at some of the roots of Milwaukee and what it looks like now.
And so it goes, 9 seasons with 13 episodes each. Brady Street, Shorewood, Sherman Park, Brown Deer, Menomonee Falls, Madison, Eagle River, St Francis, and on and on!
McGivern is a "comfortable" host, quite likeable and he interacts with John Gurda, a historian who adds a lot of the historic perspective. Bored? Tired of the summer reruns or the Olympics without spectators … you might want to take a look.
Thank you Terri for sharing.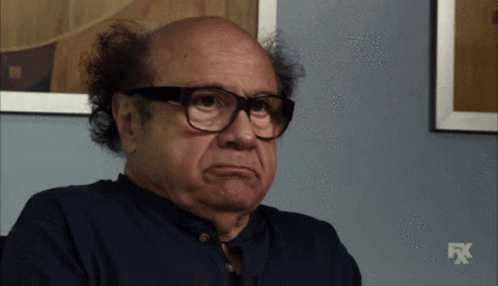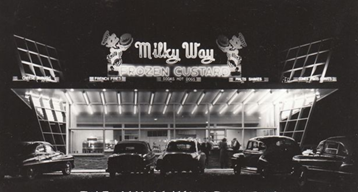 Milky Way Frozen Custard Stand
The Milky Way Frozen Custard Stand on Port Washington just south of Silver Spring. (Was that considered Whitefish Bay?) At one point the carhops were on roller skates and my sister wanted desperately to one day get a job doing that. When my family made a rare visit we had at least 4 kids in the car. The order was so big that they had to bring two of those trays that attached to the window! (Where were the carhops when it came to taking the tray and garbage away?) And a visit wasn't complete until somebody spilled their drink or dropped their hot dog on the floor. Later, a fun place to take a date.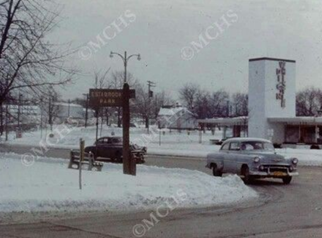 Pig & Whistle
The Pig & Whistle, otherwise known to us groupies as "the Hog and Horn"! This is a real photo of it coming out of Estabrook Park on a typical Milwaukee Spring day! (Didn't they also at one time of carhops on roller skates?) As teenagers we almost always went inside which was supposedly the inspiration for "Arnold's" on Happy Days. That's where somebody taught me to dip my French Fries in 1000 Island dressing … as if they weren't bad enough for you already!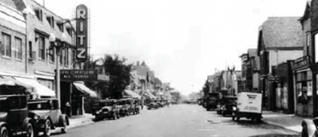 Ritz Theater - Villard
This 1930's scene of Villard looking east from about 37th street was well before our time. But it's the only photo that shows the Ritz before it became the Villa. I remember it costing 18 cents to get in for the Saturday double feature which also included the cowboy du jour cliff hanger and at least one cartoon.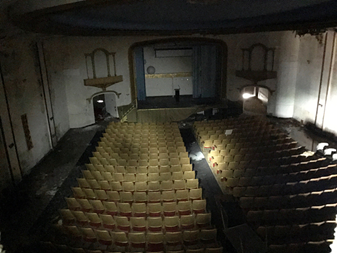 Inside the Ritz
Inside the Ritz (a.k.a. The Villa), taken in recent years after it became vacant. Didn't there used to be a short row of seats on the side aisles that was only accessible by crawling over or under people if you were up against the wall? And didn't they have maroon curtains lining the walls, probably for sound reasons? Of course your feet stuck to the floor from all the soft drinks spilled and never an end to the gum under every seat. Your coat was sure to find both. Something happened in our teenage years when people actually went at night and there were some pretty dark corners in the back rows. There may not have been much movie watching back there, not that I'd know from personal experience. John Griebel told me about it. In fact John told me all manner of things that I found shocking.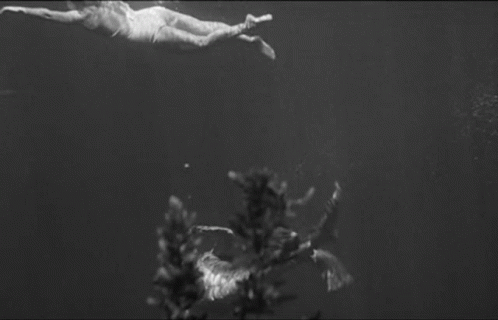 The Creature from the Black Lagoon - 1954
It was at the Ritz when I first discovered total fear! It was the 1954 showing of "The Creature from the Black Lagoon." The terror was so intense that I felt one shock wave after another and it totally consume my mind and body when the creature popped up unexpectantly or was pursuing an unaware swimming lady. I never felt anything like that before and rarely since.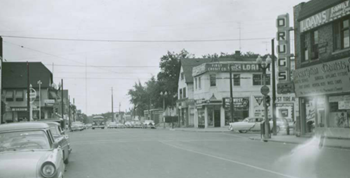 Villard at 35th Street - 1958
Villard, looking east, at 35th street with Prescription Chemist Drug store on the right (where at one time there was one of Milwaukee's iconic "bubblers"taken out by this time), the Petcoff's Standard Oil gas station on the left (with Maertz Department Store just north (left) of the Standard Station.) Next to going downtown, this seemed like the center of the universe. I can remember going to the Ben Franklin 5 and Dime (or was it Kresge's?) with a dollar from my birthday and feeling like I could buy the whole store. And then picking out some piece of crap that fell apart before the end of the day.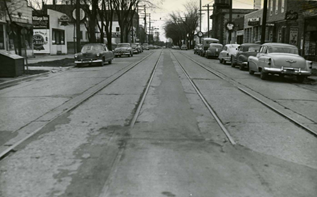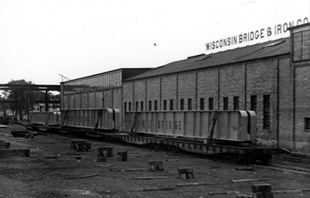 35th Street at Villard
35th Street looking south from Villard, just passed the drug store, Wisconsin Bridge and Iron on the right. Was it Claud's on the left that became a local young crowd watering hole?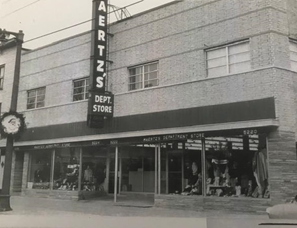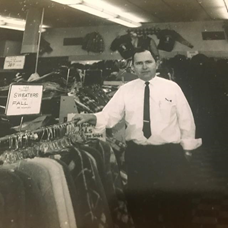 Maertz's Department Store
Maertz's Department store on 35th just south of Villard, across the alley from Petcoff's gas station. Bob Maertz', the owner, in his store was also the father of Susie Maertz from our class who died the week before our 50th reunion. The Maertz's bought the house next door to mine when I was 11. Two cute girls, Susie and her younger sister Sally, were now my neighbors. I was immediately smitten. Susie and I would ride our bikes up to the store, hang out for a while, go upstairs where they kept their extra inventory and walk around Villard. I think it was in 1956 that a fire consumed most of the store and caused the death of their maintenance man. Shortly after that Bob quit the retail business and moved into electronics. He actually just passed away last year at the age of 94!
Susie and I reunited via phone calls 50 years later during the preparations for our class reunion. She recounted that she and I had actually held hands a couple of times! Wow, we were kinda risqué!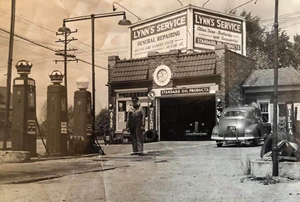 Lynn's Service Station - Hopkins and Villard
Speaking of Villard, do you recall Lynn's at the intersection of Villard and Hopkins? Or ….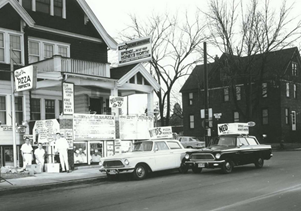 ... Ned's Pizza
Ned's started on Villard about 33rd street. There's a whole long story about Ned and his family. I never was a fan of their pizza but many people have told me it was very good. Ned's daughter married my cousin. But my favorite pizza was Pete's (formerly Piccolo's) at 76th and Capitol. That's gone now so Mama Mia's has taken over the top spot for me when I'm visiting Milwaukee … mostly because of its lethal garlic bread literally dripping with butter!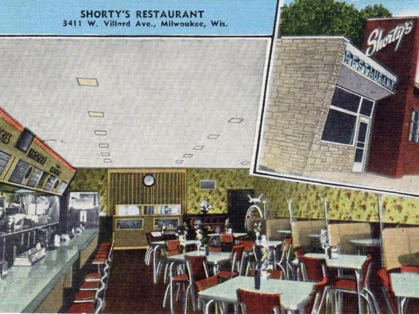 ... and finally, Shorty's on Villard
Not sure if classmates are enjoying these look backs at the "good old days". Let me know if it's time to stop or keep going.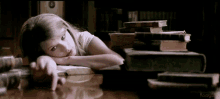 - - - - - - - - - - -
More Milwaukee Memories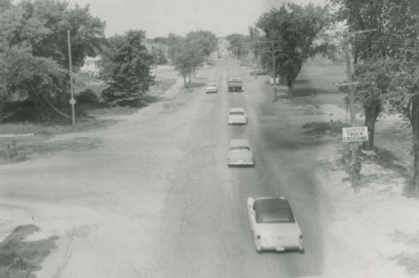 Silver Spring at 51st - early 1950's
Silver Spring was a two lane road with no sidewalks during most of our childhoods. This intersection would be on the corner of McGovern Park on the lower left, and the Army Nike site would be built on the right. And Nancy Root grew up near here on the left as well. I recall walking to Carleton grade school on narrow foot paths along side of the road with cars zipping by a few feet away. After our area was declared Granville and shifted us to Browning at 76th street, during the summer I would ride my bike from 33rd to 76th to play baseball with Ray Thompson, Wayne Oneska, John Gilbert, etc., "sharing" the road with traffic! I specifically remember this area because it began a long, slow uphill portion of the ride, except it was downhill going home!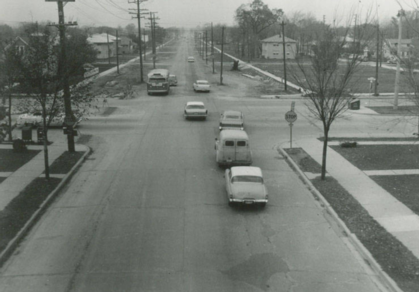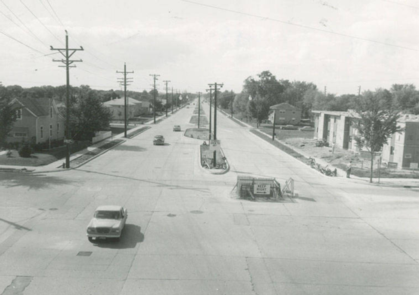 Hampton and Sherman - mid-1950's Hampton and Sherman - 1960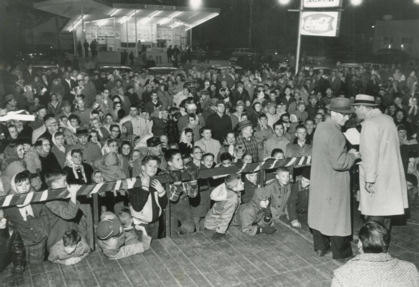 Reopening celebration of Hampton and Sherman - 1960 (Are you in the photo?)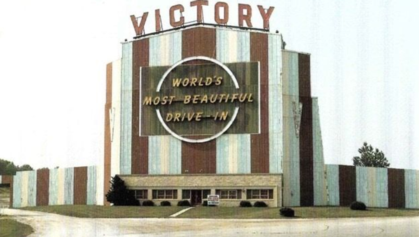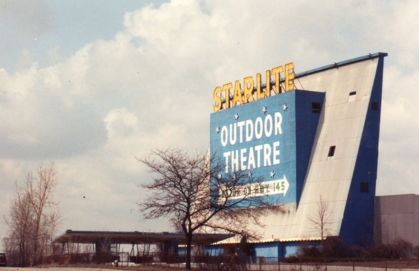 The Victory Drive-in in Butler The Starlight Drive-in in "The Falls"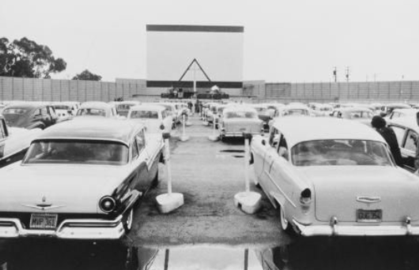 Recollections - Sneaking people in using the trunk; jocking around for the prime parking spot ("prime" being defined by whether you were there with a date or not); trying to find a speaker that works; windows steaming up; a zillion people trying to get to the snack bar or the filthy restrooms at intermission; trying to find your car coming back with an armload of goodies, or worse, going to the restroom during the movie and looking for your car in the dark while trying not to peek into other cars; and Ron Willman practicing palming basketballs with his date ... or so he says that's what he was doing. I do believe there may have been some biology lessons involved here ... unless, of course, you were with your family.
Weather People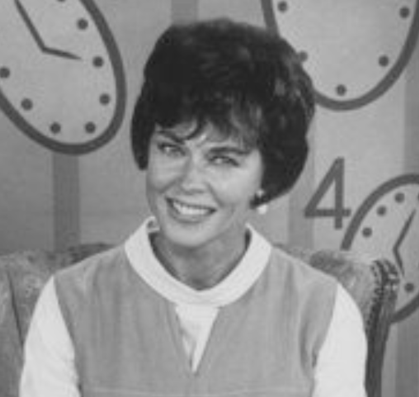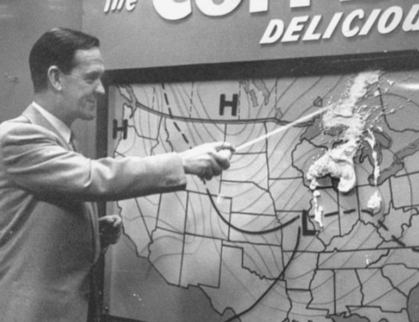 These two are easy, the gorgeous Judy Marks and Bill Carlson
(BTW - Judy died in 2011 at the age of 83.)
But do you recall the names of these people and their friend?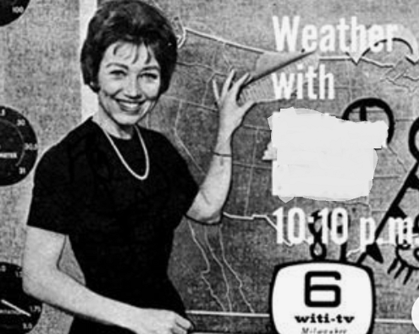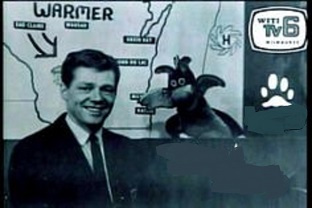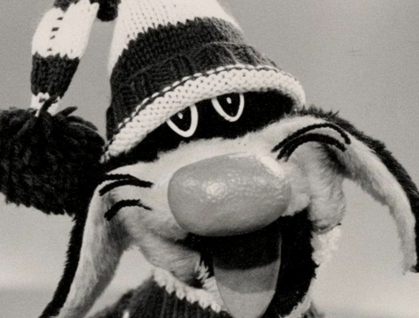 And finally ... who is this guy?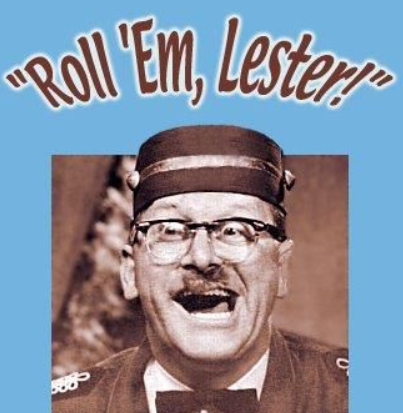 - - - - - - - - - - - - -
Childhood Memories
in Photos
Recently discovered photos from our old stomping grounds on the northside of Milwaukee. There's a bunch of them and each of them transport you back to those days gone by. There's only room for a few of them on the website so here's a sample today. Then it's time to figure out how to put more on the website without using up all of our memory allocation.
Some of these will bring out specific memories for you. We'd like to hear about them. Use the "Message Forum" to tell us your story.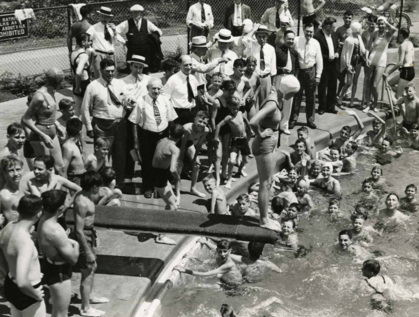 The caption for this photo says, "Silver Spring Pool" and has no date. But clearly it must be McGovern Park pool and perhaps the grand opening. Maybe it was the forerunner of the McGovern name or the lack of knowledge of the archivist. Not many girls around and a bunch of old pervert guys in white shirts gawking. Ron Willman insisted on pointing out that besides the girl on the end of the board there is another girl waiting at the back of the board. To the right of the second girl is a man with his tie askew. Behind him is another girl ... who appears to be having swimming suit equipment problems! (You may have to exam it as closely as Ron did!)
McGovern pool ...foot inspections; wet changing rooms that got your clothes soaked but mostly your underwear; wire baskets for your clothes with numbers on pins that were sure to open unexpectedly while swimming; puddles of water on the deck heating in the sun in which kids laid, along with a zillion germs but it was warm; getting in line for tickets at 11:00 in time for the opening and staying until late afternon (sun screen? what was that?); the snack bar with mostly junk; and most everybody has a story of almost drowning at one time or another and/or learnng how to swim!!!
Check out the "In Memory" tab for information on the rediscovered commemorative video for our classmates who had passed prior to the 50th Reunion