Custer High School
Class Of 1962
(Write your own caption for Father's Day!)
I'm fascinated by the thought of what our grandkids and great grandkids, who we'll never know, will say when somebody talks about the "good old days" or "back in the day", meaning 2019. What will they think of our technology, our pathetic first attempts at self-driving cars; the stupidity of our concept of space travel and extraterrestrials; Netflicks, podcasts, Apples, Googling and Facebook; energy transmission along wires that are 98% inefficient; our medical treatments for cancer, heart disease, Alzheimer's, paraplegics, Parkinson's, hip replacements (a subject near my heart and butt!), Autism, and on and on.
They'll just hang their heads and sigh ... like we did when our parents talked about the good old days.
Back in the Day - our parents and grandparents marveled at their breakthroughs in many areas. So here's some exciting innovations from back in the day: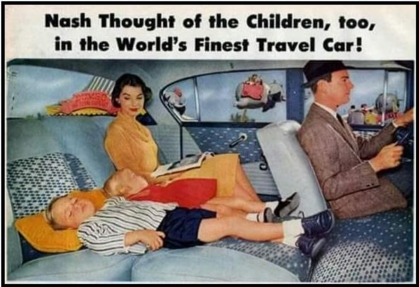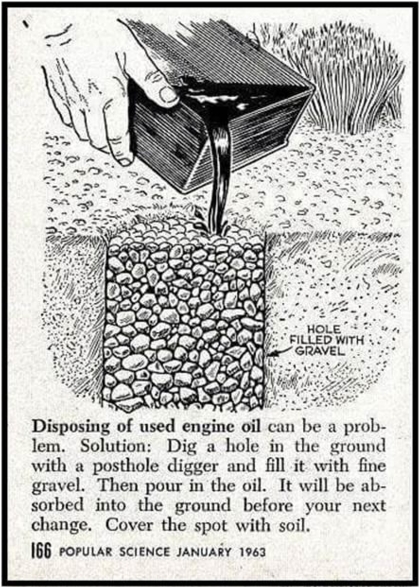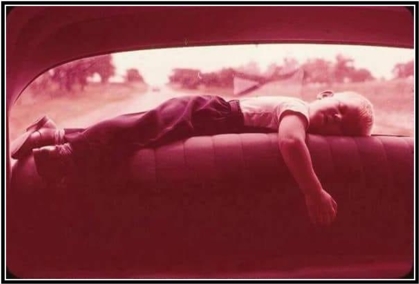 (In my family we fought for that position!)
And my favorite thoughtful car feature ...
Your 75th Birthday Is Coming and so is Sandy's Birthday …
PLACE:

Machine

S

hed, P

ew

aukee.
We'll let you in on a little secret that's been kept since 1962. It seems that

Gord

y has photos of R

oger

with J

uudud

and B

eettte

taken behind the

bleachers

Apparently Ms. S

ghhhddk

and R

ay Micha

lek were also inv

olved

G

arry

claimed

he

was completely exho

nerated

and that all along it was G

ordy

S

auebbbggfr

who had sneaked into the girls

locker

room and

installed

cameras. It all makes sense

now that you were there too and helped create a hilarious

scandal.
It's now obvious as to why W

ayne

was seen coming out of M

everly's

room at the 50th

Reunion

along with 3

clowns

from the

moving

service.
When trying to find out the truth K

athy

attemp

ted to

obstr

uct

and was

ac

cused of collab

orating

with

committee

members who

thought

they

were too big for

their britch

es! It is all

still open to

further investigation.
Their secret is safe with me!
(The unredacted version of this announcement is for sale to the highest bidder.)
Wanna Know the real facts about the September 14
you might as well accept that you are or soon will be 75!…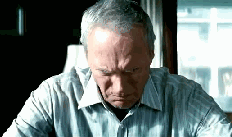 Your first thought might have been, "75th? Did I miss something again? Didn't we just have our 55th Reunion? Damn … I really must be losing my mind!!!"
No, it's your Reunion Committee's doing! (Photo taken BEFORE they started drinking!)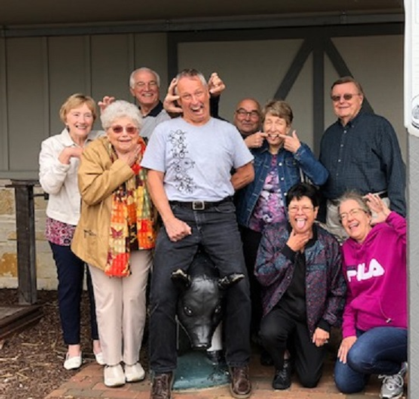 They're talking about most of us having our 75th birthday in 2019 and want to recognize it with a celebration on September 14, 2019.
So start thinking now about that weekend.
More details will follow in the coming months. This gives you time for your hip replacement, face lift, liver transplant, portable oxygen therapy, order your toupee or hair transplant, get new support hose, etc.
Remember the 7 P's ... "proper prior planning ..." oh heck, I forget the rest.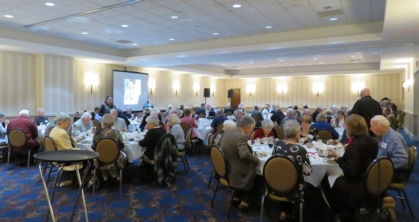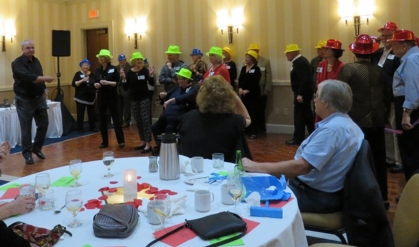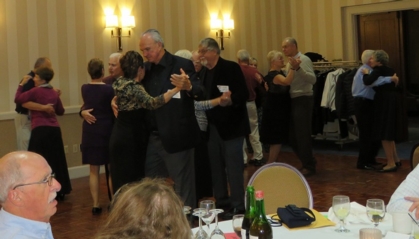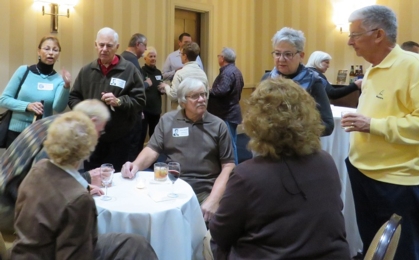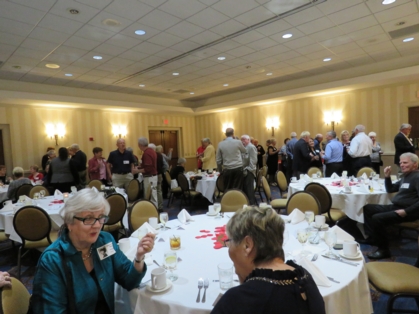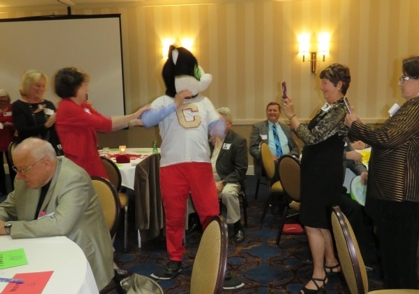 Welcoming visitors of all varieties
More than 150 photos are posted under the heading of "55th Reunion Photos". They cover both nights of the reunion but represent just a fraction of the good times and commradery that comes with being among old friends. It was particularly pleasing that a number of "first-timers" attended the event as well as a few friends from the class of '63. (You can add your own photos or contact me if you want some help in doing so.)
We thank everybody who particpated from committee members to the classmates who attended, to spouses who so valiantly agreed to join in with a crowd of old-timers. We were touched that several classmates who recently lost their spouses, put away their sadness for a short time to smile and laugh with people who care so very much about them. We hope they could feel the combined love of almost 100 pairs of arms around them.
We may or may not have another event in the future but if not, we will all add this weekend to the cherished memory banks related to the friendships started those many years ago at Custer High School. For those who chose not to or couldn't attend, we missed you and included you in our thoughts.
<