Custer High School
Class Of 1962
Happy 75th Birthday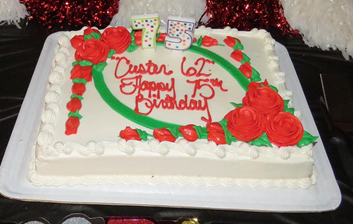 It's taken weeks for our classmates who attended the communal 75th Birthday Party at the Machine Shed in Pewaukee on September 6 and 7 to let us know what happened. There's been various explanations as to why they've been unable to tell us about it until now. Terry Reineck, Wayne's much better half, suggested that most of the attendees had no recollection of where they were or why; Nancy Plapper Schopf said many classmates thought they were going to an Oktoberfest party and were very confused; Tom Gajewski declared it was just Fake News! You decide. Watch for it on 60 Minutes.
About 50 or so classmates and guests were willing to admit to their attaining the three-quarters of a century club and show it in public. Think about it. That's a wonderful and amazing number of friends getting together after almost 60 years. Don't you wish you could have made it?
Happy Fish Eaters
According to one report by Roger Pederson, those who attended the Friday night Fish Fry were ushered into a private room so as not to annoy paying customers. After a long period of squinting at each other's name tags to figure out which old coot was who, the evening settle into a discussion of senior maladies, hip/knee and other refurbishments, new aches and pains and the inevitable … "what ever happened to so and so" and "isn't it a shame about …"!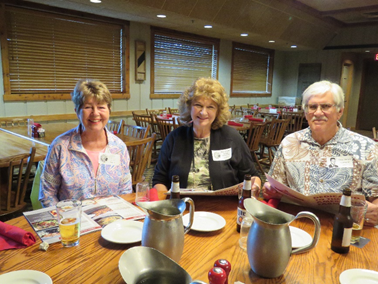 Bonnie Seitz Kenny along with Mary and Steve Hartung examine the menu which surprisingly says "Fish Fry"!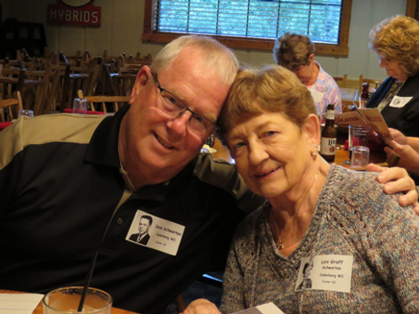 Dean and Lois Graf Schwarten waiting for their fish to come in. It is said that some couples end up looking very much like each other. In Dean's and Lois' case they actually became adjoined at the head and have one mind between them. They in fact share all their memories. Actually they look like a couple who have many happy memories in there and are still building more.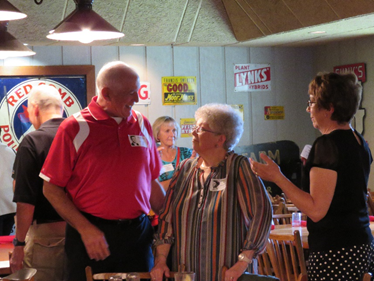 Gordy Sauer is trying to convince Jeanne Zinser Gottschalk that she'll be perfectly happy sitting next to him. Jeanne's obviously not buying into it while Sue Dumproff Steffen is trying to rescue Jeanne.
Where's the Food???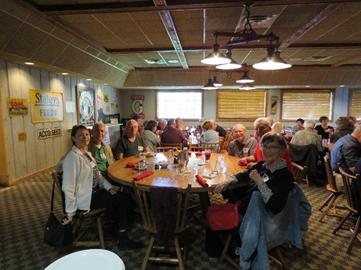 Saturday Birthday Party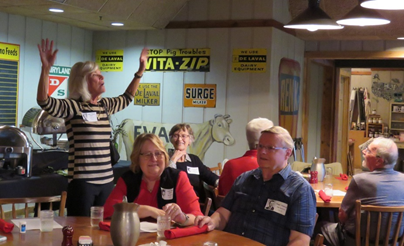 Sandy Wachs Oldham opens the Saturday 75th Birthday Party using an old Native American call to the spirits. Since she used the actual Menomonee tribal language it was not inspiring to Roger and Carol Albers Pederson. In reality we have no idea what Sandy is saying but it must be inspirational!
Bingo!!!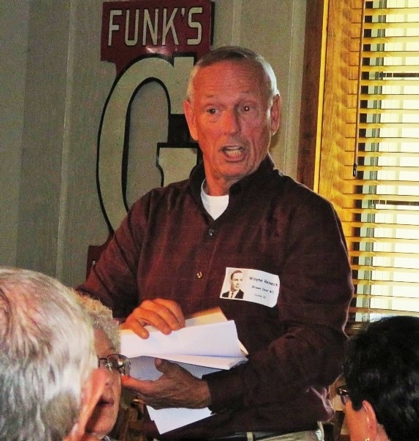 For the Saturday event Wayne Reineck tested the questionable memories of classmates with a new twist on the old game of Bingo. Instead of numbers Wayne had items of interest to the alumni … tank suits/naked (that's an inside joke); Ma Ma Mia's or Big Boys; or, Gimbels or Schusters. Wayne added tidbits of history to go along with the clues but nobody was awake enough to challenge the veracity of them.
The game ended after Barbara Blair Benzel started threatening Bernie Raml with her cane and walker equipped with stun guns.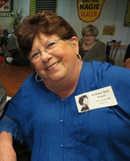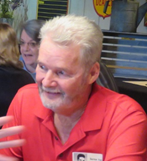 There were rumors of rampant cheating but without Chief Ray Thompson in attendance (he's "up nort now"), the game ended in a tie breaker question to determine the winner. Nobody has yet admitted to having won. Apparently during the course of the game the real truth of Jerry Stehling's "King and I" rehearsal injury was revealed. The nature of the injury was reported to be too embarassing to share among mixed audiences. Hopefully it had nothing to do with Ms Sherwood's prodigious features.
White Elephant Exchange
What's a birthday party without presents? The White Elephant exchange featured the normal puzzlements and bizarre objects that could only be given away to people who had no idea what they were getting!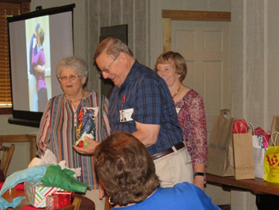 Jeanne Zinser Gottschalk and Kathy Piette Iwinski hosted the gift exchange. Here Roger Pederson seems happy to have any kind of gift … if he could only figure out what it is!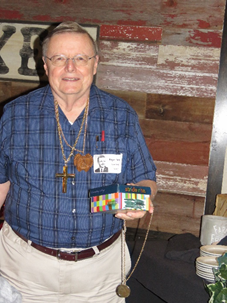 Ahhh, gold chains for his Mr T collection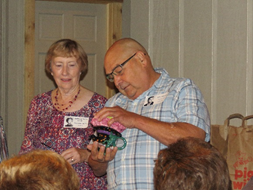 Bill Labonte has figured out the cup part but is the rest edible?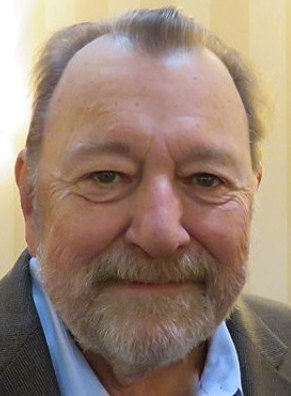 Gerry Iwinski, husband of Kathy Piette Iwinski, got a dependable gift … DEPENDS! The sad part is that before the afternoon was over, 4 or 5 of them went missing.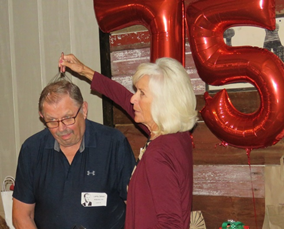 Sandy demonstrates the proper use of Larry Scholl's precious scalp massager gift. What Larry didn't know was Sandy was actually putting him into a trance which got him to pick up the tab for the entire event! He's still doing dishes.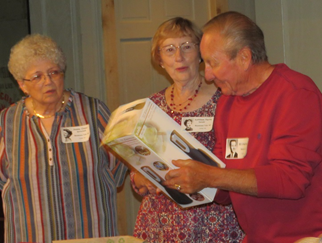 Jeanne and Kathy are trying to convince Bill Gregorios that he really needed this! He doesn't look convinced!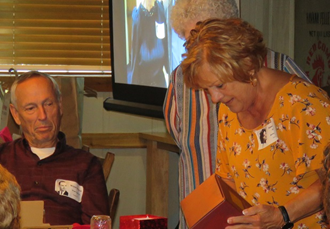 Nancy Plapper Schopf got a box! Was anything in it?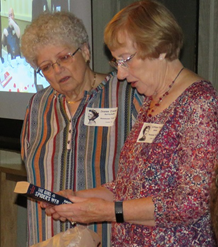 "The Girl in the Spider's Web"! Kathy is wondering if she should read it now that it's been dumped on her. Have you read "The Girl with the Dragon Tattoo" or seen the movies? Jeanne seems to be giving a marginal recommendation.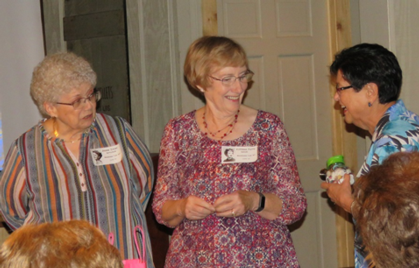 Coleen Marshall Kober seems thrilled with another bottle of pills. They must be happy pills because she sure seems that way!
When the Chickens come home to Roost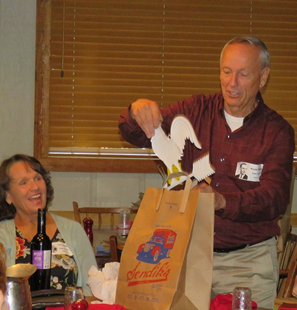 Appropriately Wayne Reineck was the recipient of a rooster. Wait a minute, isn't he supposed to have the infamous blue rooster? Whatever happened to it?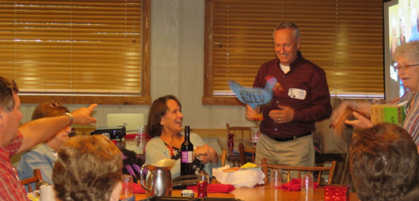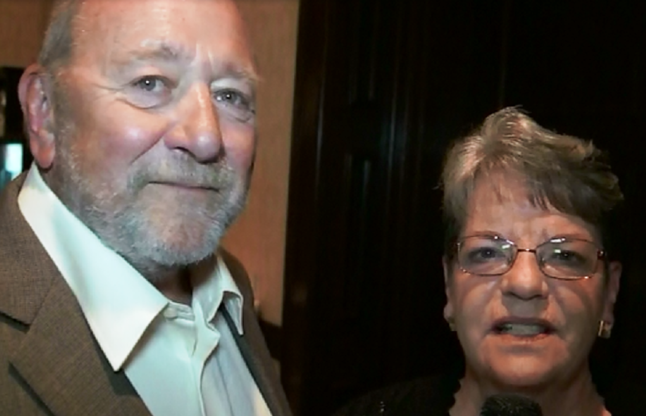 Ahhh … it's finally back in Daddy's arms! Wonder where it's going next?
Once again it was a very pleasant event renewing and rekindling friendships that will never fade. Once a Milwaukean and Custer grad ... it will always be part of you. And you will always have friends waiting for you with a hug and a warm smile.
Start thinking now about 2022 and our 60th reunion!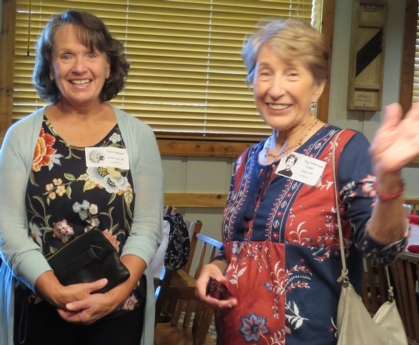 Terry Reineck and Peggy Peterson Trudll
Ellyn (Steinbach) and Dennis Sorensen with Jeanne Zinser Gottschalk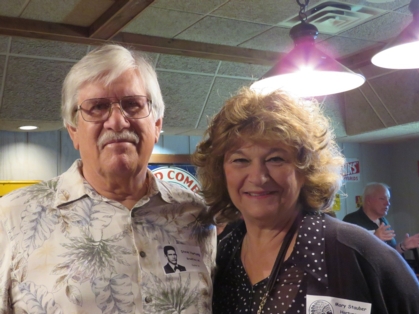 Steve and Mary Hartung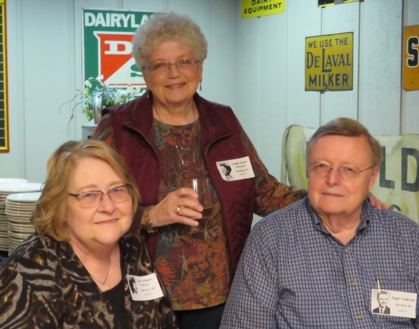 Carol (Albers) and Roger Pederson with Jeanne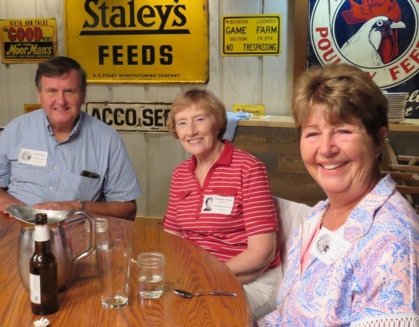 Gerry and Kathy Piette Iwinski with Bonnie Seitz Kenny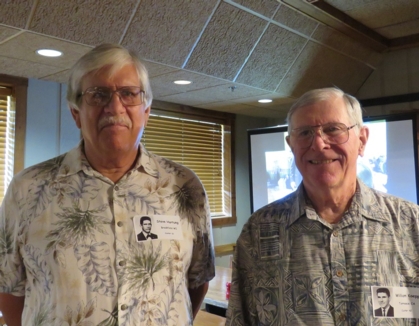 Steve Hartung and Bill Koepp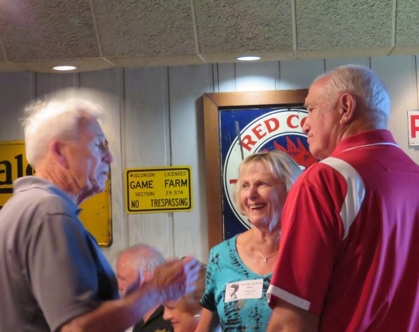 Tom Gajewski and Gordy Sauer with Marilyn Griffith Bauer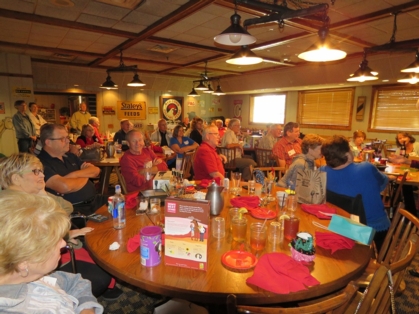 ...,,, and many others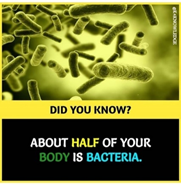 "Ahh, so that means if I drink that anti-bacterial sanitizer instead of putting it on my hands, I can lose a lot of weight?" Dean Schwarten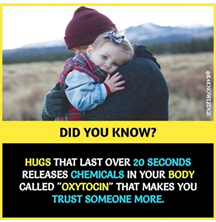 "Ron Willman tried using that line on me 60 years ago and to this day I still don't trust him!" Pamela Siebert Howe
ll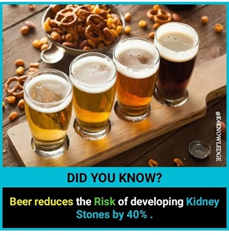 "That would explain why my kidney function is perfect but my liver ist nicht so gut, nicht wahr?" Karsten Boerger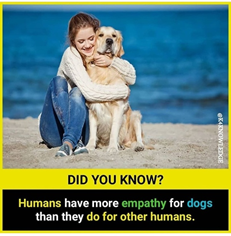 "Yeah, well most of the time you don't have to carry a plastic bag with you when you're walking a human … unless you're in law enforcement!" Ray Thompson


"I'm starting to understand why my mother had that talk with me a long time ago. I wonder how many bacteria you exchange when the two of you … oh forget it!" Marilyn Griffith Bauer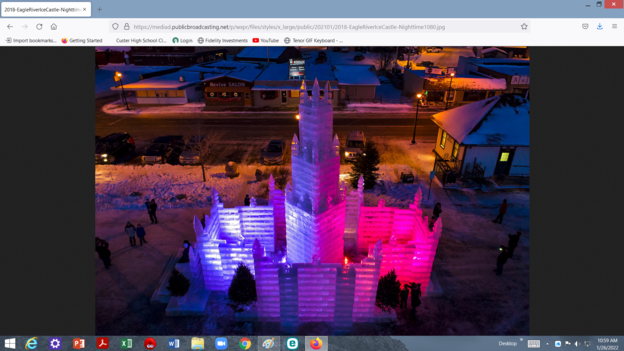 "Of course I talk to myself, especially when I want an expert's opinion. Besides, at least I know somebody is listening." Ron Chesnik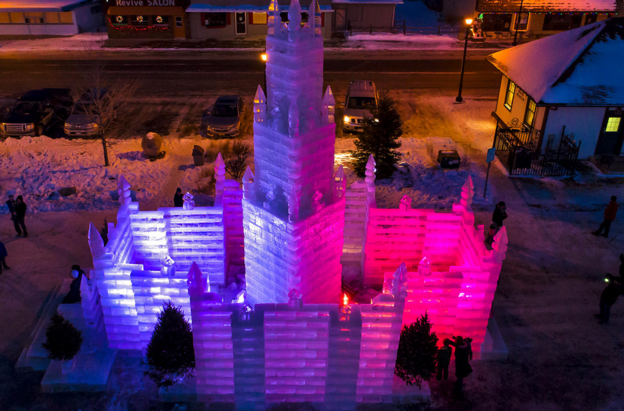 "I've always been interested in people but I've never liked them!" Karen Krause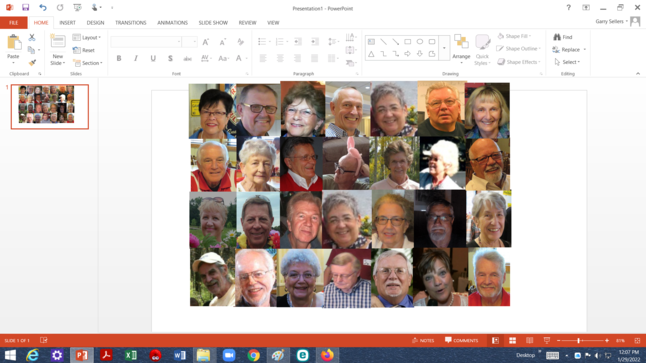 "Stressed spelled backwards is desserts. Coincidence? I think not!" Barbara Blair Brenzel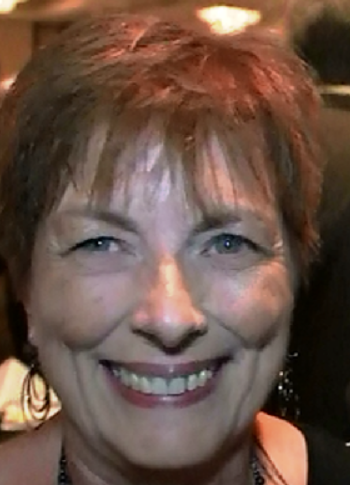 "The only thing you have to fear is fear itself … and spiders." F@#* spiders!" Judy McConnell Anderson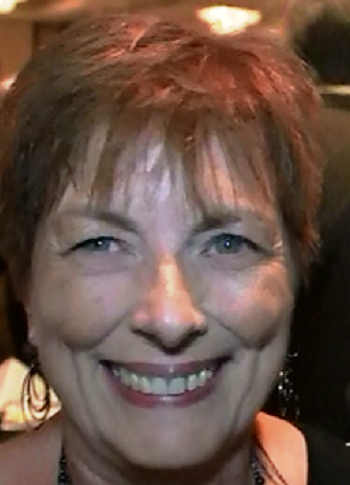 "Did you hear that Honey? I was right all along and it simplifies meal planning. So now shut up and eat your dinner! Pass the salt and ketchup please!" Patricia McCarthy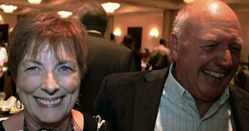 "I have dead batteries under there!" Anonymous


"That's making some real assumptions about how many I had to start with? I could be a few French fries short of a Happy Meal!" Wayne Reineck