Custer High School
Class Of 1962
Speaking of Super Bowls, do you remember ...
Super Bowl I
Interesting Facts:
There was a lot of animosity between NFL and AFL. NFL had already wiped out several fledgling leagues. The teams didn't like each other. Fred "The Hammer" Williamson, Chiefs defensive back, was going to give Boyd Dowler and Carroll Dale (Packer receivers) one of his famous (and dirty) elbow hammers figuring it only take one hit to knock them out. Dowler left the game after a few plays, aggrivating a previous injury ... joining Paul Hornung who had a pinched neck and never did play.

It wasn't decided to play the game in LA until the beginning of December, 7 weeks before the game. The LA Coleseum was 1/3 empty.

The game was called "The World Championship Game". A few announcers referred to it as the Super Bowl but it wasn't changed to that name until a couple years later.

Each team used a different football when they were on offense. The Packers used "The Duke" by Wilson while the Chiefs used a Spalding ball that was slightly narrower and longer

.

The Packers had just come off the ledgendary win in the "Ice Bowl" against the Cowboys on New Years Eve where the temperature was minus 15 degrees!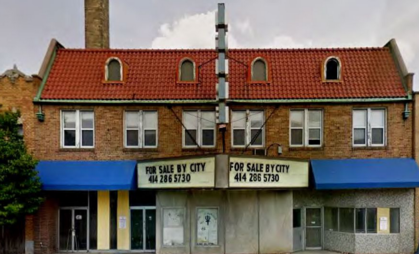 With Boyd Dowler on the bench the Packers were forced to bring in little used Max Magee who caught only 4 passes for 91 yards during the entire season, Here he scores the first points ever scored in a Super Bowl, going on to score another TD and catching 7 balls for 138 yards to lead all receivers.
In a sad twist of fate, Magee died at his Minneapolis home after falling off his roof while blowing off leaves ... at the age of 75. (Hint: any of you 75 year olds, stay off your roofs!)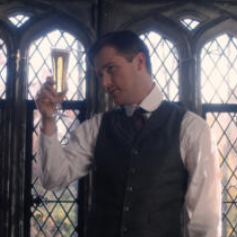 Of course the passes were delivered by Hall of Fame and 4-time All Star quarterback Bart Starr (here being protected by Fuzzy Thurston). Starr made a great quarterback but not so great coach later in his career (still alive at 85 living in Alabama).
It was Bart Starr who suggested to Coach Lombardi that he call a run to Jim Taylor in the "Ice Bowl" NFL Championship game but keep the ball himself and follow Jerry Kramer's block. At -15 degrees Lombardi said, "Run it and let's get out of here!" It was that win on New Year's Eve 1966 that got the Pack to the first Super Bowl.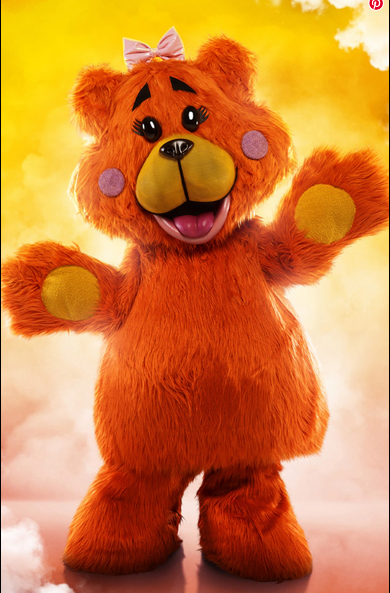 Chieds' quarterback Len Dawson contemplating their game plan in the locker room while enjoying a cigarette and a cold one! It almost worked! The score was only 14 - 10 for the Packers at half-time.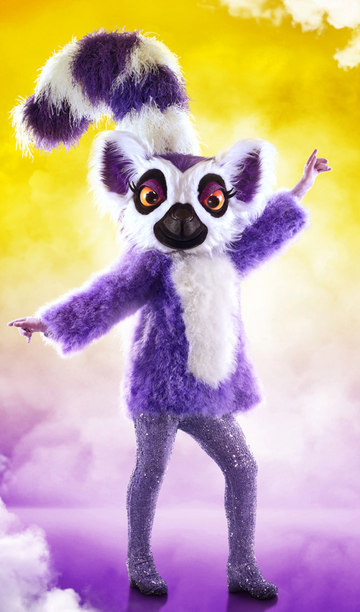 With Paul Hornung sidelined with injuries, Jim Taylor was expected to carry the load. And here he did with Forest Gregg throwing a block to spring Taylor for a touchdown.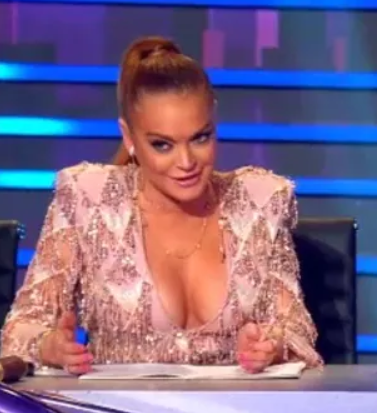 But it was #22, Elijah Pitts, who carried for two touchdowns and made several key catches in the 35 - 10 Packer victory .... here getting a blocks from Taylor (left) and Marv Fleming (right). Pitts would go on to coach for the Pack, then the Rams and the Bills, dying at the age of 60 from stomach cancer.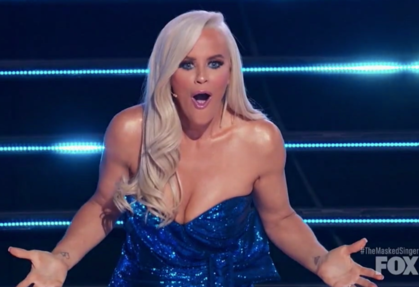 With the game close it was the defense who sparked a dominant second half. Here Lionel Aldredge (82) stops a Chiefs running play with the help of Ron Kostelnik (72 far left), Henry Jordan (74) and linebaker Lee Roy Caffey (60). But it was defensive halfback Willie Wood who intercepted a Dawson pass and carried it 50 yards to the Chief's 5 yard line. The Pack went on to score 21 unansered points in the second half, carrying them to a 35 - 10 victory.
Henry Jordon was a 4-time All Star but sadly died at the age of 40 after returning from one of his regular jogs!
Most of you know the tale of poor Lionel Aldrudge. He suffered from a variety of mental disorders which were misdiagnosed, for a time was homeless, and eventually did sportscasts for WTMJ. He died in his Shorewood home at the age of 56.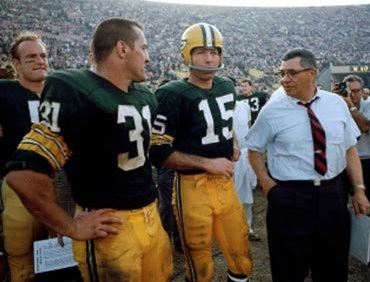 Coach Vince Lombardi with Bart Starr and Jim Taylor while Paul Hornung looks on.
As most of you know, Lombardi coached the Packers for a while longer, went to the front office and brought in Phil Bengston as head coach. As a mystery to many of us, he then left the Packers to return to coaching for the Washington Redskins. As early as 1967 he complained of intestinal problems but refused to have a proctoscope exam. In 1970 he was diagnosed with colon cancer and died a few months later at the age of 57.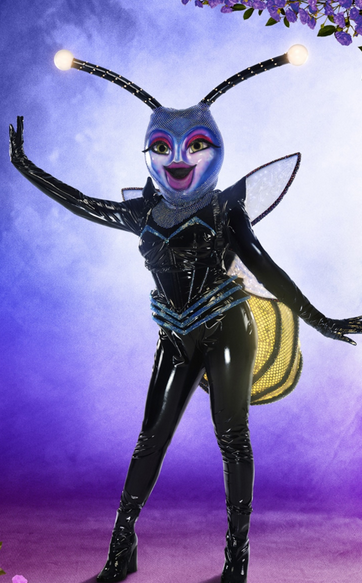 The only other story to come out of Super Bowl I was the Chiefs; cheerleaders who made a run for it when they heard that Ron Willman, David Holm, and John Gilbert were seen approaching the stadium!
Super Bowl I
Green Bay Packers 35 - KC Chiefs 10
Classmates' Christmases
I put out the call for Christmas photos from our old Milwaukee days and found that many are in the same boat as me. Somebody else has custody of the old photo albums, in my case my sister. And the pictures aren't digitized ... which is a term foreign to her! We all know those photos exist ... someplace!
But here are a few from our classmates: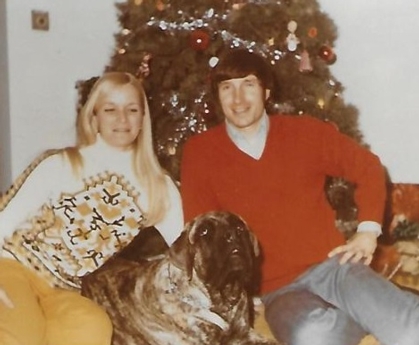 Recognize him ... or her ...
(not the one in the middle but she does look a bit like a girl I dated)?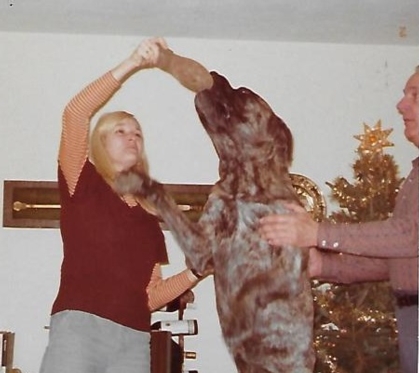 Got it yet? Know who it is?
Yes, it's Sandy Wachs Oldham ... while still married. I think the second photo is of Sandy feeding the last bits of her X to her clearly undernurished puppy!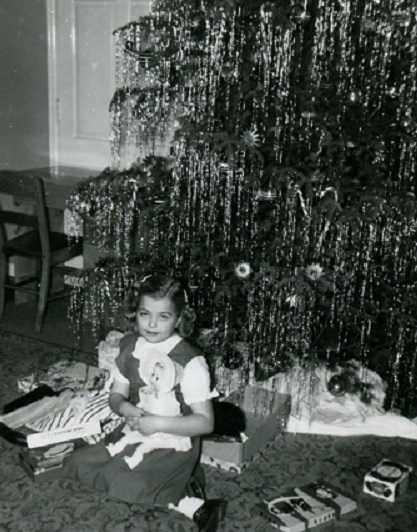 Immediately recognize this young girl in 1951? I just love this photo for so many reasons. The obvious, a cute 7 year old cherishing her new Christmas morning doll. But the TREE! It's so like the ones we had in our family ... massive and with lead tinsel lovingly hung, one strand at a time. We weren't allowed to help with tinsel until we were well into our teens! It was an artform!!!
And then there's a very touching tradition shown in this photo. In the lower right-hand corner you may be able to make out a box of chocolate-covered cherries. A traditioin in this household that continued over the years with her husband providing the box of cherries until he passed away a little while ago.
Yes ... it is Jeanne Zinser Gottschalk who got the chocolate-covered gift from her husband Robert ... albeit on St NIck's Night (a celebration we never did in our family and one that NOBODY in California ever even heard of!)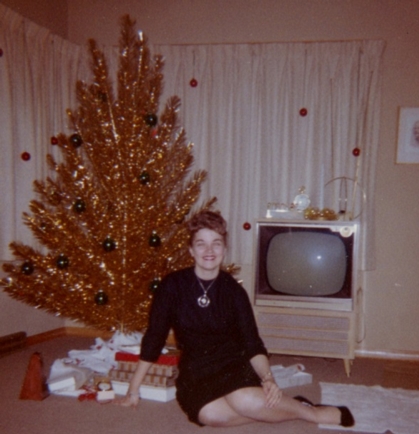 The little 7 year old has grown up! Her parents taste in trees apparently fell by the wayside somewhere in the intervening years. Remember those aluminum monstrosities? Jeanne was so put off by it that she went out and bought her own live tree and put it in her bedroom!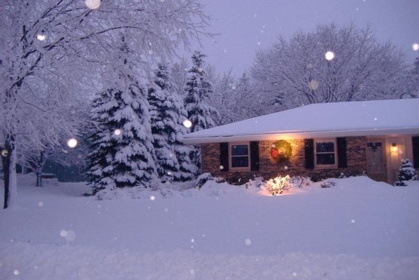 You can't tell who this photo came from but it looks everything like the perfect Milwaukee Christmas I fantasized when I was moving around, sometimes living in a the desert of Phoenix. It looks like a Hallmark card! "I'll be home for Christmas!" It clearly is a photo belonging to a hopeless romantic.
Yes, here he is in more recent times ... WAYNE "THE ROMANTIC " REINECK! We can all make up our own caption for this one. Mine is "Wayne enjoying a typical Milwaukee Summerfest parade!"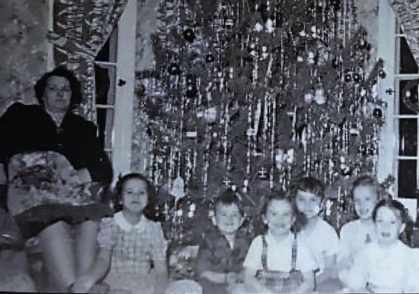 Ahhh ... sister Carol came through! She found this photo of a portion of the Sellers clan, with the youngest one in the middle being the guy you all know and worry about his sanity! Note the Christmas bush a.k.a. tree. Much like Jeanne's above, with tinsel carefully hung strand by strand.
The older lady is Grandma, who was born in 1900 so we always knew how old she was. You know what that date sounds like to my grandkids? Of 8 siblings and scads of cousins, only two in this photo are still alive, the two in the middle, my sister Carol and me.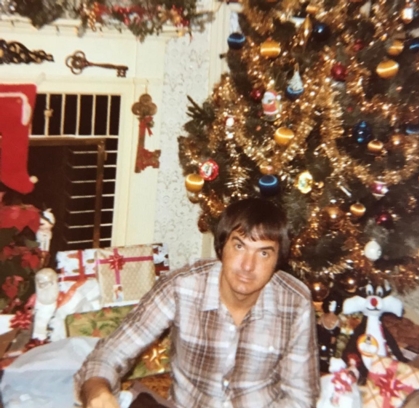 Sis also sent this one, not sure when this was taken but it was one of my very rare "I'll be home for Christmas" events. It rained the whole time we were there. And I promised the kids a white Christmas. It was obviously when I lived in Phoenix because who in Milwaukee has a tan at Christmas? The tree is only a few feet to the left of where the one above was positioned, by this time lead tinsel was outlawed, but it's still a pretty big bush!
Hey! Wake up Bill!!!
Thanksgiving is over and you're already way behind on Christmas!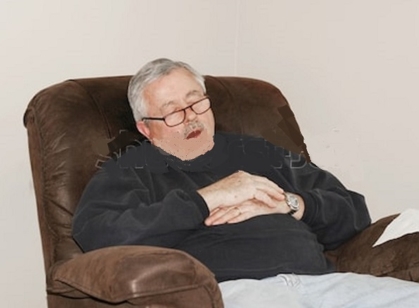 So much to do and so little time ... but do you remember when?
Either you recognize these photos ... or you don't!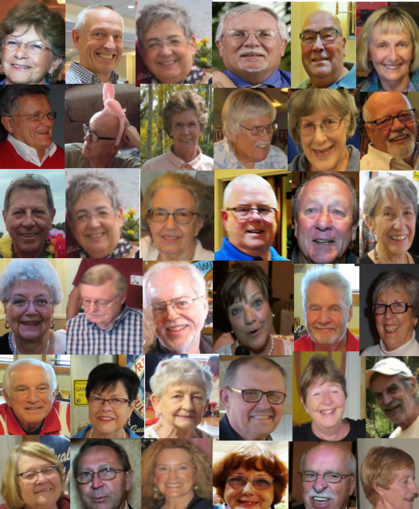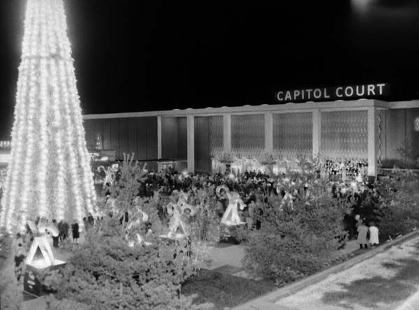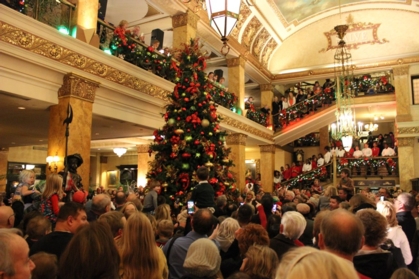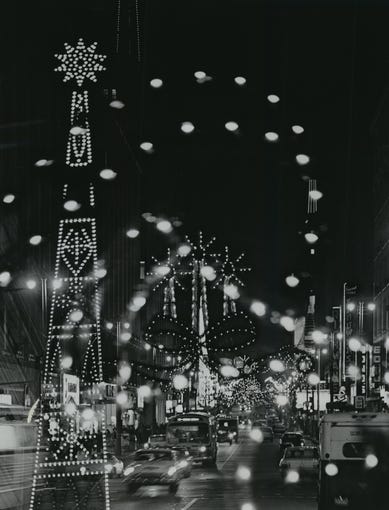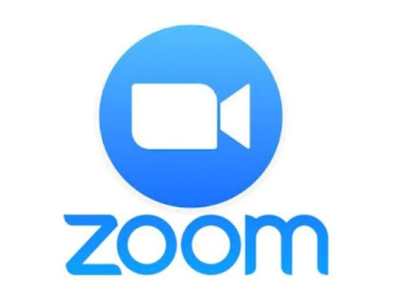 Trigger any memories? Stop thinking about them and get on with this year's Christmas! Remember how fast time flies these days?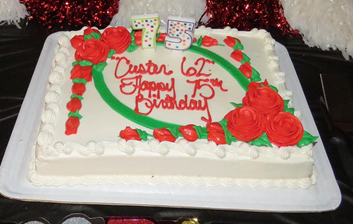 It's taken weeks for our classmates who attended the communal 75th Birthday Party at the Machine Shed in Pewaukee on September 6 and 7 to let us know what happened. There's been various explanations as to why they've been unable to tell us about it until now. Terry Reineck, Wayne's much better half, suggested that most of the attendees had no recollection of where they were or why; Nancy Plapper Schopf said many classmates thought they were going to an Oktoberfest party and were very confused; Tom Gajewski declared it was just Fake News! You decide. Watch for it on 60 Minutes.
About 50 or so classmates and guests were willing to admit to their attaining the three-quarters of a century club and show it in public. Think about it. That's a wonderful and amazing number of friends getting together after almost 60 years. Don't you wish you could have made it?
According to one report by Roger Pederson, those who attended the Friday night Fish Fry were ushered into a private room so as not to annoy paying customers. After a long period of squinting at each other's name tags to figure out which old coot was who, the evening settle into a discussion of senior maladies, hip/knee and other refurbishments, new aches and pains and the inevitable … "what ever happened to so and so" and "isn't it a shame about …"!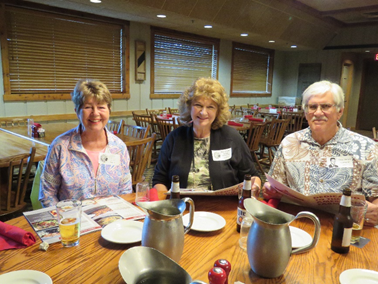 Bonnie Seitz Kenny along with Mary and Steve Hartung examine the menu which surprisingly says "Fish Fry"!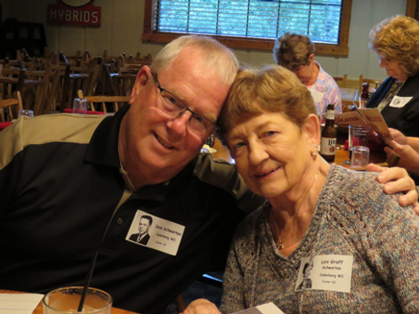 Dean and Lois Graf Schwarten waiting for their fish to come in. It is said that some couples end up looking very much like each other. In Dean's and Lois' case they actually became adjoined at the head and have one mind between them. They in fact share all their memories. Actually they look like a couple who have many happy memories in there and are still building more.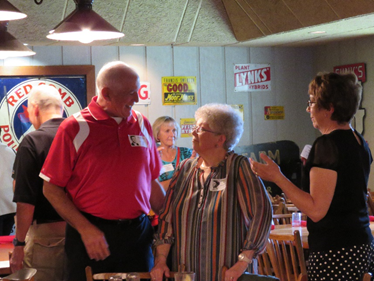 Gordy Sauer is trying to convince Jeanne Zinser Gottschalk that she'll be perfectly happy sitting next to him. Jeanne's obviously not buying into it while Sue Dumproff Steffen is trying to rescue Jeanne.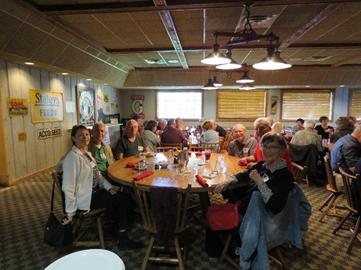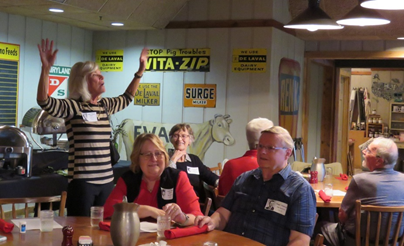 Sandy Wachs Oldham opens the Saturday 75th Birthday Party using an old Native American call to the spirits. Since she used the actual Menomonee tribal language it was not inspiring to Roger and Carol Albers Pederson. In reality we have no idea what Sandy is saying but it must be inspirational!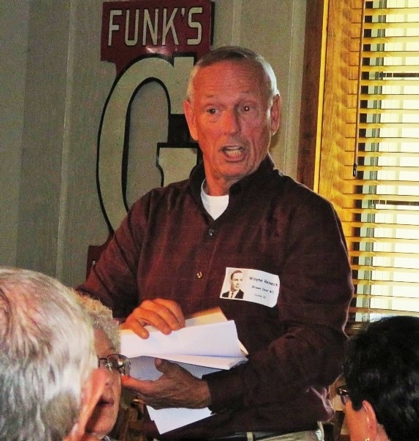 For the Saturday event Wayne Reineck tested the questionable memories of classmates with a new twist on the old game of Bingo. Instead of numbers Wayne had items of interest to the alumni … tank suits/naked (that's an inside joke); Ma Ma Mia's or Big Boys; or, Gimbels or Schusters. Wayne added tidbits of history to go along with the clues but nobody was awake enough to challenge the veracity of them.
The game ended after Barbara Blair Benzel started threatening Bernie Raml with her cane and walker equipped with stun guns.
There were rumors of rampant cheating but without Chief Ray Thompson in attendance (he's "up nort now"), the game ended in a tie breaker question to determine the winner. Nobody has yet admitted to having won. Apparently during the course of the game the real truth of Jerry Stehling's "King and I" rehearsal injury was revealed. The nature of the injury was reported to be too embarassing to share among mixed audiences. Hopefully it had nothing to do with Ms Sherwood's prodigious features.
What's a birthday party without presents? The White Elephant exchange featured the normal puzzlements and bizarre objects that could only be given away to people who had no idea what they were getting!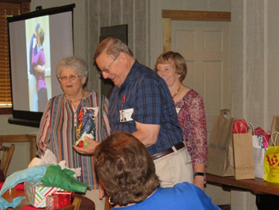 Jeanne Zinser Gottschalk and Kathy Piette Iwinski hosted the gift exchange. Here Roger Pederson seems happy to have any kind of gift … if he could only figure out what it is!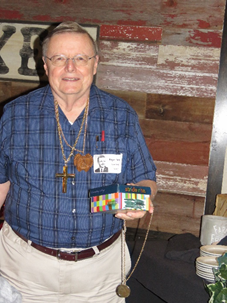 Ahhh, gold chains for his Mr T collection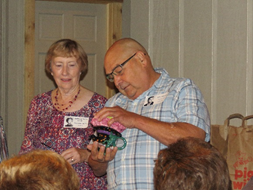 Bill Labonte has figured out the cup part but is the rest edible?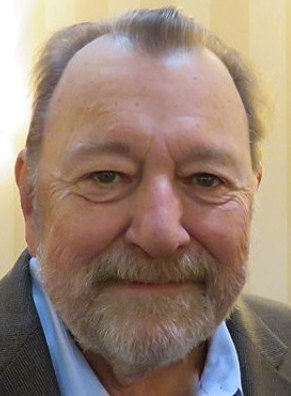 Gerry Iwinski, husband of Kathy Piette Iwinski, got a dependable gift … DEPENDS! The sad part is that before the afternoon was over, 4 or 5 of them went missing.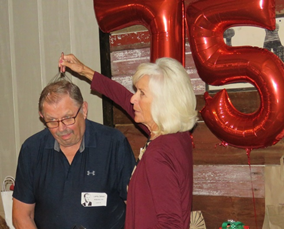 Sandy demonstrates the proper use of Larry Scholl's precious scalp massager gift. What Larry didn't know was Sandy was actually putting him into a trance which got him to pick up the tab for the entire event! He's still doing dishes.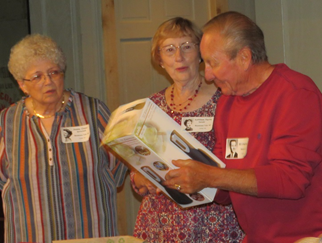 Jeanne and Kathy are trying to convince Bill Gregorios that he really needed this! He doesn't look convinced!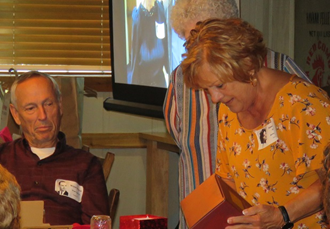 Nancy Plapper Schopf got a box! Was anything in it?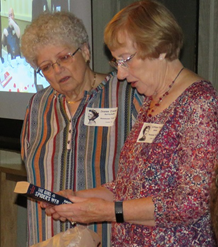 "The Girl in the Spider's Web"! Kathy is wondering if she should read it now that it's been dumped on her. Have you read "The Girl with the Dragon Tattoo" or seen the movies? Jeanne seems to be giving a marginal recommendation.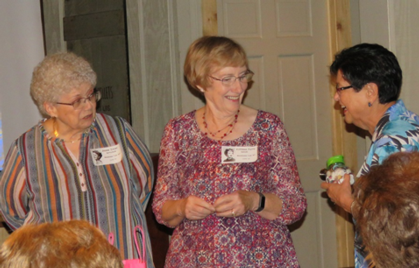 Coleen Marshall Kober seems thrilled with another bottle of pills. They must be happy pills because she sure seems that way!
When the Chickens come home to Roost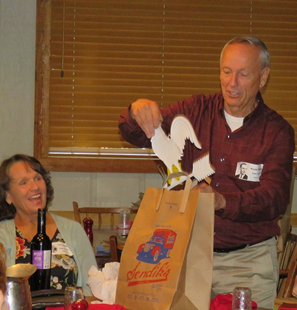 Appropriately Wayne Reineck was the recipient of a rooster. Wait a minute, isn't he supposed to have the infamous blue rooster? Whatever happened to it?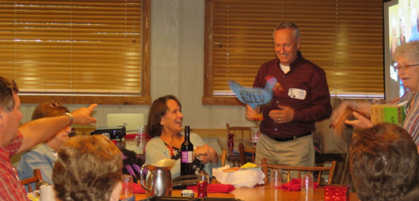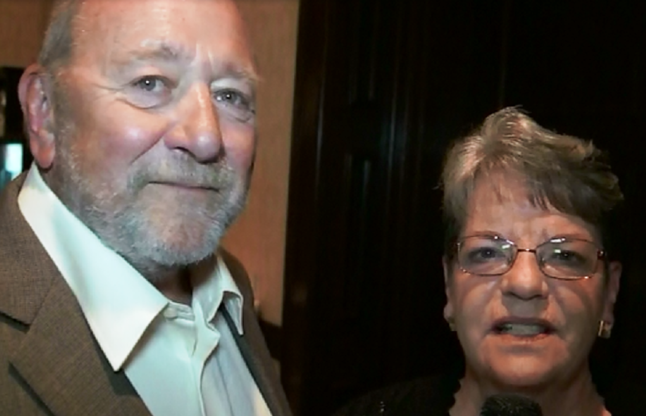 Ahhh … it's finally back in Daddy's arms! Wonder where it's going next?
Once again it was a very pleasant event renewing and rekindling friendships that will never fade. Once a Milwaukean and Custer grad ... it will always be part of you. And you will always have friends waiting for you with a hug and a warm smile.
Start thinking now about 2022 and our 60th reunion!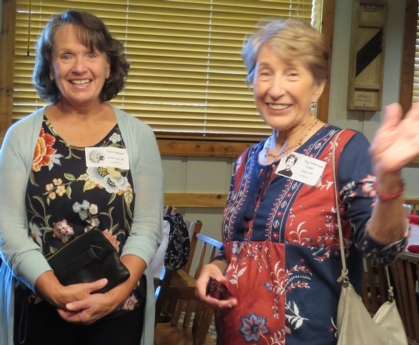 Terry Reineck and Peggy Peterson Trudll
Ellyn (Steinbach) and Dennis Sorensen with Jeanne Zinser Gottschalk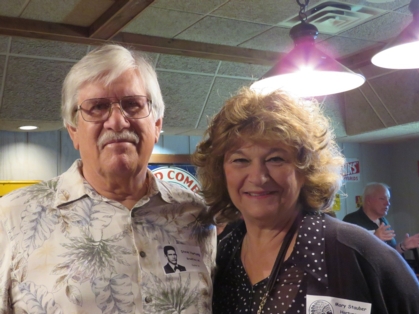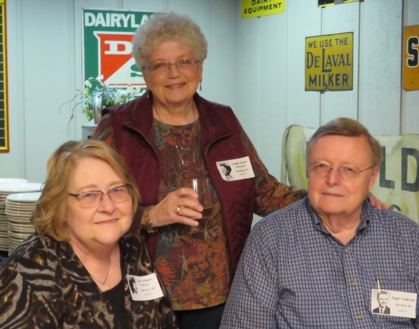 Carol (Albers) and Roger Pederson with Jeanne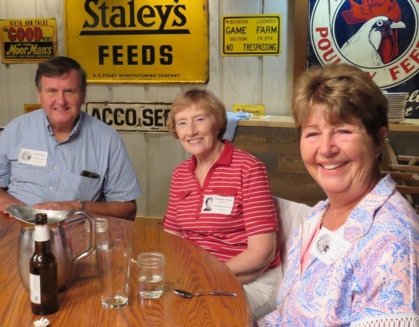 Gerry and Kathy Piette Iwinski with Bonnie Seitz Kenny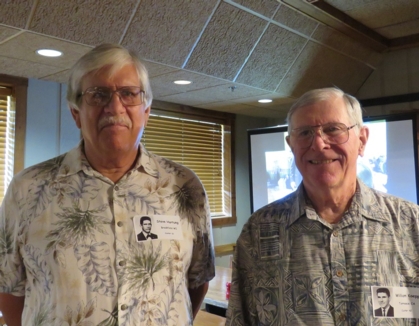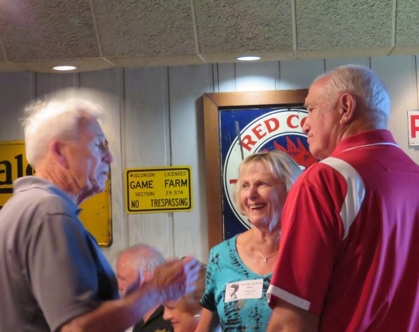 Tom Gajewski and Gordy Sauer with Marilyn Griffith Bauer