Custer High School
Class Of 1962
Only one question: Why????
Winter 2017/18
It's hard to deny that this winter has been brutal almost everywhere in the country. I thought it'd be interesting to hear what our classmates around the country were personally experiencing so a request was sent out to dozens and dozens of people for their tales of survival … all of whom are suspected of still being above ground. One or two responded.
First, we have poor Melody Jones Parker who moved from the Sacramento area in Northern California (not to be confused with those strange people down there in LA LA Land) to North Carolina. If you've checked the Message Forum you'll recognize what greeted Mel!

Snow! That's as common as a bottle of whiskey with a legitimate label and a tax stamp in Mel's part of the country. Mel would like to wish "all y'all" the best of weather for the remainder of the winter but she was reminded that "all y'all" is not a recognized phrase coming from Custer Alums! Mel is waiting in line for an exorcism.

Looks not unlike this photo of a street in Milwaukee some time ago. Like the one I use to have to walk to and from Custer, 3 miles, uphill … both ways with Gordy Sauer hiding behind me whimpering that he wanted me to take him home.
And I know my sister in Conover up next to the U.P. (as you call it) was pathetically mumbling about -20 something and her Spring seed catalogs … while sitting next to a wood burning stove. (Is that the same kind of stove you hide next to Up Nort Ray?) And what about you Mitch? Is the stone mansion insulated?
And how many of you escape from the joys of winter in Wisconsin and head south? Gordy? Karsten and Nancy, et al?
Karsten and Nancy Boerger's Winter Pennance
As it turns out Nancy Davison Boerger did respond to my invitation to share winter horror stories … from the safety of a 2-month secondment to Florida! Poor thing. Yes, it's tough duty but somebody has to do it. We're proud of you brave Warrior Nancy!
Karsten and Nancy live on Presque Isle, Michigan, in the northern part of the state just off the coast of Lake Huron.
Here they get all the benefits of the northern cold and lake-effects snow. Good thinking guys! Nancy can tell it in her own words:
"This story has a lesson for all of us up in "da Nort" who leave a house unattended in the deep winter.
Our kids have a summer home a few houses from ours and, since they return to Boulder in mid-August when Karin begins teaching at CU, we finish up the season's end at their house. A few years ago, our local plumber took care of some last minute details and when we checked the house some weeks later we were in for a big surprise.
The crawl-space covers had been left open and, fall having been very rainy, the abundant water in the warm crawl space evaporated, then rose into the cold house. A sudden and precipitous drop in temperature caused the warm moist air to freeze on all of the windows, outside walls, and ceilings on the northwest half of the house.
When we walked in, we were greeted with a scene right out of Varykeno in Dr. Zhivago…..ice everywhere. Turning on the heat would have resulted in a flood, so we proceeded to scrape and shovel the ice into buckets and carry it outside (no throwing it down the winterized drains). We scraped and shoveled for hours, then turned on the heat intermittently and ran from wall to wall, room to room, with every towel we owned (and lakefront houses have a lot of towels!) It took two days to finish the job, but we managed to end up with just a few ceilings needing repainting.
Lesson learned: don't leave open the doors to a warm, damp crawl space under a cold house.
Ahhh, Nancy, it brings tears to my California heart. You've had all the fun and I've missed so much in life. Imagine, scraping ice off walls ... another item for my bucket list.
For those who still miss the sites of Milwaukee in winter, this is for you:
- - - - - - - - - - - - - - - - - - - - - - - -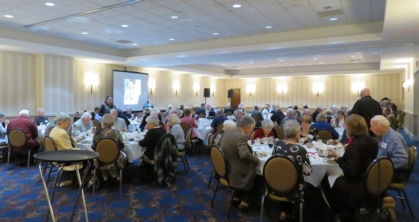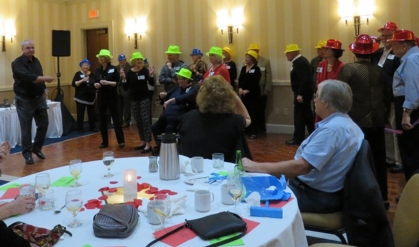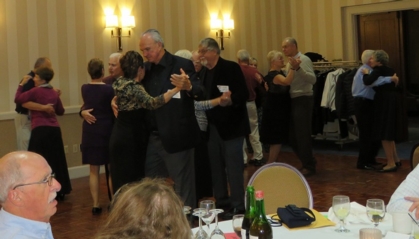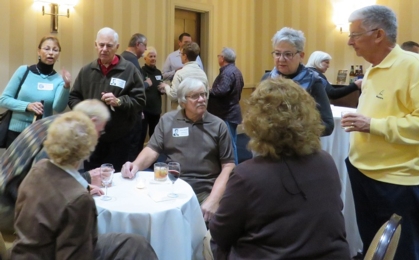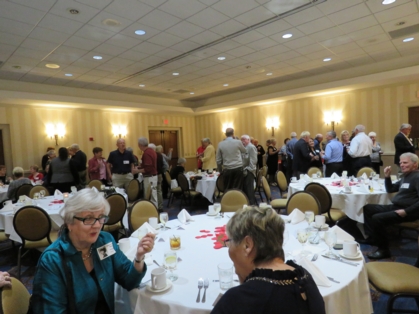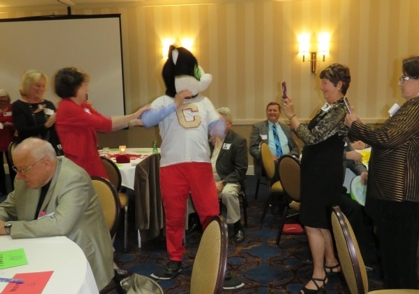 Welcoming visitors of all varieties
More than 150 photos are posted under the heading of "55th Reunion Photos". They cover both nights of the reunion but represent just a fraction of the good times and commradery that comes with being among old friends. It was particularly pleasing that a number of "first-timers" attended the event as well as a few friends from the class of '63. (You can add your own photos or contact me if you want some help in doing so.)
We thank everybody who particpated from committee members to the classmates who attended, to spouses who so valiantly agreed to join in with a crowd of old-timers. We were touched that several classmates who recently lost their spouses, put away their sadness for a short time to smile and laugh with people who care so very much about them. We hope they could feel the combined love of almost 100 pairs of arms around them.
We may or may not have another event in the future but if not, we will all add this weekend to the cherished memory banks related to the friendships started those many years ago at Custer High School. For those who chose not to or couldn't attend, we missed you and included you in our thoughts.
<